Sacrifice for victory: Bekwai youth group offer animal ritual for Black Stars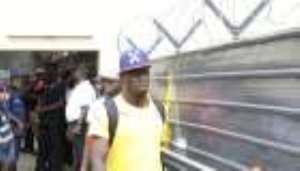 A self-professed social youth group  in Bekwai Zongo, a suburb of the Amansie East Municipal in the Ashanti Region, Yalwa Base have killed and offered animal sacrifice to seek spiritual support for the national team as they prepare for a crucial quarter final clash against Guinea at the 2015 Africa Cup of Nations.
Sheikh Ishaq Daabo, leader of Yalwa Base explained that they decided to intercede on behalf of the Black Stars because of the tough task the Ghana national team face against Syli Nationale in Malabo on Sunday.
"If Ghana had drawn Mali, we could have told everybody to sleep for Ghana will coolly qualify but Guinea is spiritually a strong nation so we think we have to assist our team with prayers," Sheikh Daabo told SportsCrusader.
"We shared the meat for kids, the aged, orphans, widows and beggars, and Insha Allah, Ghana will win the game against Guinea," he added.
Stressing that they are not a spiritual group but a social body that has the well-being of brilliant but poor and needy students in the community at heart, the Yalwa Base leader said patriotism was the inspiration behind the sacrifice for the national team as the country desperately eye the overly elusive 5th Africa Cup.
"We sometimes find it very outrageous and unbelievable when people support opponents of the Black Stars just because they have differences with some people. You may have your differences but Ghana is the only Ghana we have," Ishaq Daabo stressed.
"We believe it is an obligation on us to support our nation in anything. That is why we have organised this recitation and the sacrifice," he explained.
Sheikh Daabo added: "I must say that in Islam it's unacceptable for someone to support any other country that is in a competition with your country.
"We shall, therefore, wish to use this medium to appeal to all Ghanaians to pray for the national team ahead of the game with Guinea on Sunday. We hope to continue until we see Ghana in the finals." Follow @thedonplato