Athletics: Javelin Record Holder Ampomah Charges Former Athlete Nimako With Hypocrisy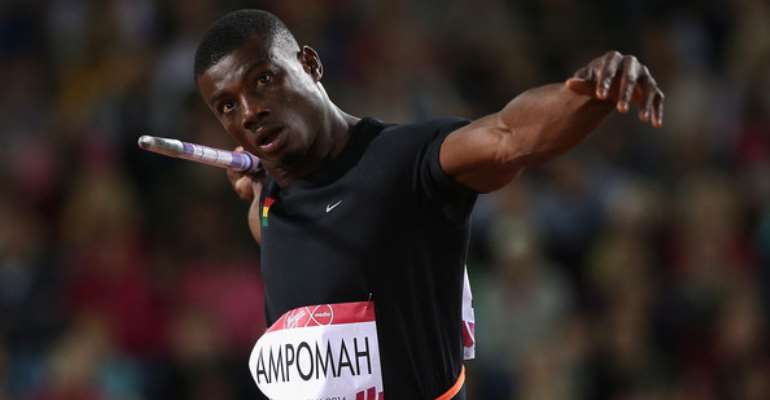 As co-captain for team Ghana at the 2014 African Championships and the current national record holder in the Javelin, I am angry at what some former athletes are doing to the disadvantage of current athletes all because they oppose Professor Dodoo.
I have heard in the past few days of an athlete by name Kwaku Nimako who has been on radio dismissing all that we have managed to accomplish for our motherland. He even said that there is no fair selection onto national teams when all the current athletes know exactly what you have to run or jump or throw to get on the team. It is called qualification standard.
As a current athlete I am offended. After killing myself for the country why should other people tell my teammates that we are not good enough? How can he tell us we are not achieving anything when some of us have broken national records in 2014?
It is even more insulting when the person spreading the lies is a former athlete whose best 100m time was 10.92 seconds as I saw on the IAAF website. His time does not even rank in the top 50 in the history of Ghana. Why is he lecturing me and my teammates about how bad we are doing when I am ranked number 1 in Ghana's history and achieved that mark this year?
I did not compete under any of the previous GAA presidents and so i can only judge the current president based on that i know as facts. I have asked a few former athletes if they got support from GAA in the past to develop their athletic talent and prepare for life after sports. The big response from all the ones I asked is NO. It looks like in the past only 2 of the top athletes from Ghana at any point in time got a chance from GAA to develop their athletic talent through IOC sports scholarship.
Today, we have a GAA president who has helped my teammates and me to get support to develop our talent and also prepare for life after athletics by working on university degrees. We don't have IOC scholarships but 15 of us have got scholarships to the US universities and colleges in the last 2 years. Our scholarships pay for training, equipment, health insurance, travel to competition, school tuition, room and feeding and school books.
Not wanting to be selfish like Nimako, i want my other teammates (young incoming athletes) in Ghana to also get to the highest level of sports and education. I know athletes in Ghana who would have gotten far but didn't get any support from any chairman or whatsoever. I strongly believe i would have been just like them had it not been Prof. Dodoo. For what i have seen during this short period of time I can assure Ghanaians that the only person who can help Ghana athletics is Prof. Dodoo and with him, i think Ghana athletics will get far.
Should we not be praising the man for helping us? As for me, I will sing his praises because I will not be where I am today and where I see my future without the help of prof. Dodoo.
As for Kwaku Nimako, I challenge him to let the good people of Ghana know what he did for Ghana as an athlete and let's compare who is a failure.
Respectfully,
John Ampomah
(2012 African Silver Medalist and National Javelin Record Holder)