Living Legend: Rawlings hails 'incorruptible' Azumah at biography launch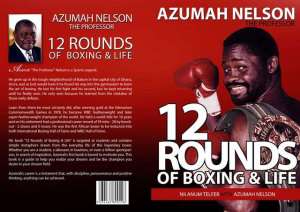 Former President, Jerry Rawlings is recommending the biography of Azumah Nelson to all Ghanaians especially the youth to read and take inspiration from 12 Rounds of Boxing and Life which is a narrative of the life story of the greatest boxer to ever emerge from Africa by Ashley Morrison.
"Azumah's book vindicates what I have always believed about most people in this country that we ca be the best in whatever we pursue. Read the book and your impression of Azumah will never be the same again," Mr. Rawlings said as he formally launched the book at a well attended ceremony in Accra.
Sir Sam Jonah, Mrs. Nana Konadu Agyemang-Rawlings, Pastor Mensah Otabil, Kennedy Agyepong (Kenpong), Abedi Pele, D.K. Poison, Stephen Appiah, Sammy Kuffour, Dr. Nyaho Nyaho-Tamakloe, GBA President, Peter Zwennes and his Vices and executives, T.T, Brothers former Ministers, businessmen and showbiz stars were among the bigwigs of this country who all showed up at the Alisa Hotel on Wednesday evening to share in the legend of the Hall of Fame boxer.
"This is the living history of a Ghanaian actor in the ring, a life that demonstrated a rejection of the corruption of laziness. It could affect the psyche of the Ghanaian youth. It's with great pleasure that I join Professor Azumah Nelson to launch this book," President Rawlings said before buying the first copy of the copy along with Sir Sam Jonah at GH¢100,000 (one hundred thousand Ghana Cedis) each.
As well, the first 12 copies of the book were also auctioned by former Ghana Boxing Authority Chairman, Moses Foh-Amoaning which were all bought at various prices ranging between GH¢10,000 and GH¢100,000 by among them The Presidency who were represented by the Deputy Sports Minister, Pastor Mensah Otabil, Kenpong, TT Brothers.
The programme was as lavish as the dignitaries who showed up with videos of Azumah's greatest moments in the ring screened as well as messages from some of the greatest boxers and the sport's officials including renowned American promoter, Don King as well as boxing legends, Sugar Ray Leonard, Mike Tyson, George Foreman, Jeff Fenech and Joe Cortez, the astute referee who was in the middle of Azumah's first fight against Australian Fenech.
"He is the greatest boxer to come out of Africa and the world, he goes into every fight to win and give his all. He is a warrior and he inspires everyone," Don King said in a video message.
"You showed that you love boxing, you love your country but don't forget we love you too," former undisputed heavyweight champions of the world, Foreman said.
"I truly love you and respect you men, you are the champ," Sugar Ray Leonard added.
Rawlings was extensively quoted in the book for the starring role he played in Azumah's development as a boxer during the legendary fighter's amateur days with the Ghana army and was head of state during all of Azumah's professional career, also reiterated how selfless Azumah was during what was a difficult period for this country economically.
"It was the genius of Azumah that forced people to find out about Ghana. Azumah put Ghana on the world map long before the Black Starlets did it by winning the FIFA U-17 World Cup in 1991. He singlehandedly flew the flag of Ghana in those difficult days," Flt. Lt. Rawlings noted.
"Azumah had a clause in his contracts mandating that feeds of his fights are given to GBC live so Ghanaians can watch. He even sometimes paid with some of his purse from his own pocket," Mr. Rawlings continued.
"This book should be compulsory reading for everyone in this country. This is the life story of a true role model. "It's a life well lived, a life worth emulating," the former Ghana President affirmed. Follow @thedonplato