Ghana players are patriotic – Michael Essien tells Presidential Commission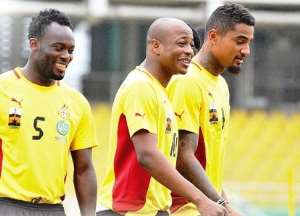 Midfielder Michael Essien insists Ghanaian players remain patriotic to the Black Stars despite allegations to the contrary.
Several Ghanaian fans remain angry at the Black Stars players for allegedly not showing enough patriotism during the 2014 World Cup.
A large chunk of the irate Ghanaian fans even believe some of the players took the nation to ransom in their unrelenting demand for the prompt payment of their appearance fees for the tournament staged in Brazil.
The agitation in the Ghana camp proved costly as the Black Stars eventually failed to make it past the group phase despite coming into the tournament with a lot of promise.
The team is struggling to win back the overwhelming support and affection of the fans in the aftermath of their disappointing World Cup campaign.
But Essien, who has been fingered by some of the irate fans as one of the uncommitted players of the national team has debunked this assertion – using his several injuries sustained while on international duty as a perfect example.
"Players play for pride and it's an honour to play for Ghana," he is quoted as telling the Presidential Commission on Monday.
"He [Essien] sacrificed despite nine surgeries playing for Ghana."