Bruce Bochy hails gallant San Francisco Giants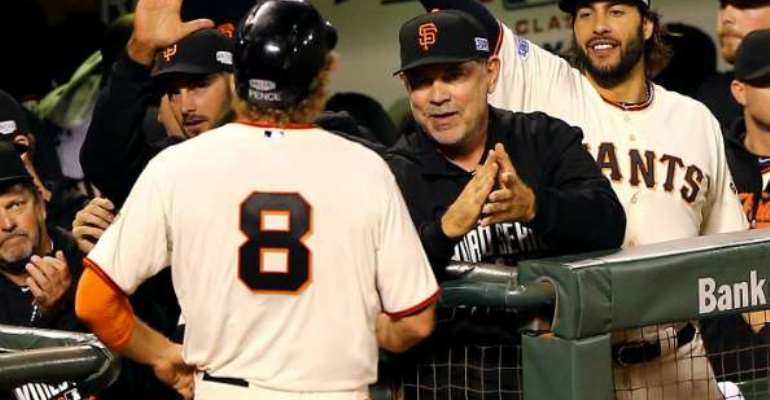 Bochy's men were looking down the barrel of a 3-1 series deficit to fellow post-season wildcards the Kansas City Royals, as they trailed Saturday's encounter 4-1 midway through the third inning.
But some stunning Giants offense and defense saw them eventually canter to an 11-4 win to square the MLB's championship series at 2-2.
Of the 12 players to have an at-bat for the National League champions, 11 had base hits - with Hunter Pence (three) leading the way while Pablo Sandoval, Joe Panik and Gregor Blanco also had multiple hits.
"You hear the term 'team win'," Bochy said.
"It's used quite a bit, but if you look at that game, everybody did something to contribute, from the bullpen to the hitters, pinch-hitters, [Matt] Duffy, big hit, he scores. [Joaquin] Arias [too].
"All these little things added up for us mounting that comeback, a great comeback."
Bochy said his side's ability to scratch their way to victory having been hit-less heading to the bottom of the third with a 4-1 deficit was extraordinary.
"It's obvious we think it's a great game. These guys fought hard. I mean, they scratched and clawed to get back in it," Bochy said.
"You know, you get down against this club [the Royals] and that bullpen, you have your work cut out. But these guys didn't stop fighting."
Sandoval, who hit the go-ahead two-run single, conceded he was feeling ill 24 hours from game four, but got himself up for the clutch base hit for his team-mates.
"I didn't feel great yesterday," Sandoval said post-match.
"As I said it was a tough moment to be sitting on the bench, I just told myself you have to go out and play with aspiration ... I just tried to tell myself, 'You're the guy. Step up for your team-mates. You try and get a base hit out there and score two runs'."
Sandoval said the Giants were buoyed by the fans, who are spurring on their team for a third World Series win in five years.
In even better news for San Francisco, star pitcher Madison Bumgarner is set to start game five - and is poised to give the Giants a series lead heading to game six in Kansas City.
"It is a big difference to win. Tomorrow [Sunday] there's going to be another game," Sandoval said.
"We're going to play hard for the fans, they enjoyed this moment.
"Tomorrow is going to be important for us, we're going to have Madi back on the mound so we're going to do the best we can."