Ex-Ghana coach Claude Leroy backs Kwesi Appiah as right man to lead Black Stars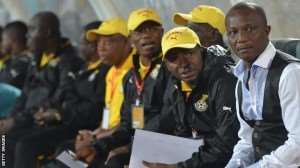 Frenchman Claude Leroy says Ghana coach Kwesi Appiah is the right man to lead the Black Stars to a brighter future despite the team's failure at the World Cup.
Appiah, who was Leory's assistant when he was in charge of the Black Stars, has been under fire since Ghana crashed out of the group stage of the tournament in Brazil two weeks ago.
Despite the disquiet in some quarters, the former international defender is set to earn a fresh contract as the Ghana Football Association has agreed an extension with Appiah.
According to the state-owned newspaper Graphic Sports, Appiah will receive a $100,000 signing fee, an improved salary of $36,500 from the previous $20,000 in the deal to end in June 2016.
The revelation by the newspaper has not been well received in some quarters who think Appiah does not deserve a renewal because of the team's showing in Brazil.
But Leroy, who led Ghana at the 2008 Africa Cup of Nations, thinks the Black Stars will thrive with Appiah in charge given his experience in the game.
"Kwesi Appiah, who was my assistant in Ghana, is a man and a coach of the highest quality. With Kwesi Appiah, Ghana seems incredible," Le Roy told Star Africa. 
Appiah led the Black Stars to an impressive showing in the qualifying for the World Cup thumping African giants Egypt 6-1 in the process.
Do you think Appiah is the right man to lead the Black Stars? If not what are the alternative? Make your views known in the box below: