Richard Sherman sparks Michael Crabtree rivalry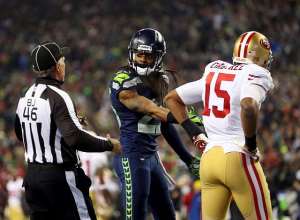 Sherman helped the Seahawks to their maiden Super Bowl title in February, with his play in the dying stages of their NFC Championship clash with Crabtree's San Francisco 49ers helping them through to the biggest show in American football.
Crabtree's attempt at a match-winning touchdown catch was tipped away by Sherman, whose reaction went viral.
"I'm the best corner in the game," Sherman said in an emotional post-match interview.
"When you try me with a sorry receiver like Crabtree, that's the result you're going to get. Don't you ever talk about me."
With just under two months until the Seahawks begin their title defence, Sherman has since revealed his hatred of Crabtree goes further than just a sledge.
"It's much more of just I don't like the dude," Sherman said on program American Muscle, as shown by the Discovery Channel in the US.
"You know what I'm saying. And I think he's sorry. So it's really what it comes down to."
Sherman added his wish to "choke him out" when he next meets Crabtree, which will be on November 27 in San Francisco pending both players' availability.
"It's just about him, it's just about Crabtree," Sherman said.
"It's not going to be something that goes away. I hope to play him every year for the rest of my career and choke him out.
"There's not much else I can say about the subject. Nobody will understand it but him and me. That's all that (anyone) needs to understand."