Veteran killing: Petra Kvitova lauds gutsy win over Venus Williams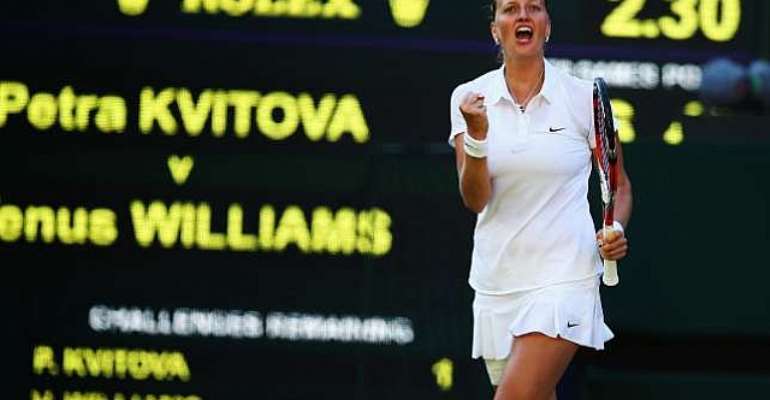 The Czech left-hander claimed the SW19 title in 2011 with a win over Maria Sharapova, but has bowed out in the quarter-finals in London in '12 and '13.
Kvitova progressed to the last 16 on Friday with a 5-7 7-6 (7-2) 7-5 victory over five-time champion Williams, and the sixth seed said it was the best she has played at the All England Club in some time.
"This is the best match I have played on grass since I won the title," Kvitova conceded.
"She's a huge player, a big champion, and she's doing a good job of coming back. We all have to respect her. I don't think I was the better player the whole way through this match."
Kvitova hailed her own mental attrition to come out on the winning end of the two-and-a-half hour contest.
"I was very nervous before the start," she said.
"I knew of course that she's a five-time champion here and loves to play on the centre court as much as I do.
"I was just a little stronger than her mentally. That's why I won."
Williams, the 30th seed, had not reached the fourth round of any major since Wimbledon 2011, and after falling short of the last 16, the American said she left it all on the court.
"She played well at every single moment," said Williams.
"I gave it my all. Sometimes it's not enough. It's a shame there had to be a loser and more of a shame that it had to be me.
"This was a great match for me. But the battle is always more enjoyable when you win. I'm still in the doubles. That's what is on my mind now."
Williams, 34, said she is unflustered by calls for her to retire, despite her decline down the rankings to world number 31.
"This year has been great for me. People have been trying to retire me since I was 25," Williams said.
"But I'm finding my way back on my feet, and I'm proud of myself for what I'm achieving on the court.
"I want to win more slams. Everybody does. No-one gives it to you.
"They snatch it away, and say 'mine'. That's what I have to do " snatch it, say 'mine', too. Growl if need be."