2014 World Cup: Could Jeffrey Schlupp be the answer to Ghana's left-back problems?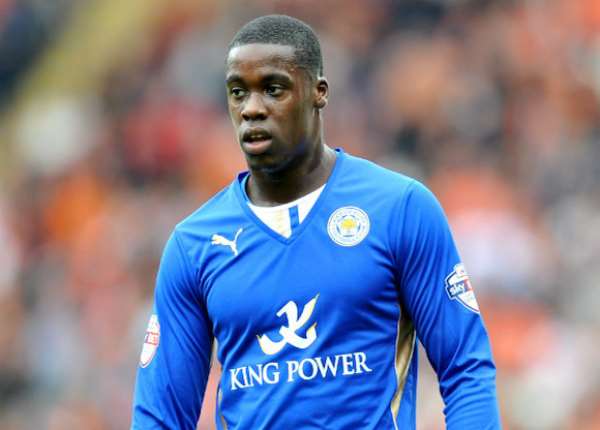 The first time I heard his name, I least anticipated that he looked even remotely like me; in my mind's eye, I pictured a red head; stocky, freckled and muscular man.
To my surprise, Jeffrey Schlupp was very much Ghanaian and looked every bit like me, well except in the looks department of course, I shaded that one. Okay, that was just a light remark, now back to serious business.
Schlupp first came to prominence in 2011, after a series of outstanding performances as a striker for Leicester city; he caught the eye of then Ghana coach, Goran Stevanovic, who invited him for a double header against Sierra Leone and Gabon in November 2011. He made his debut against Gabon coming on for Prince Tagoe.
Eureka! I screamed in my minds ear, savouring every bit of the irony. To think that the Germans had "stolen" Gerald Asamoah, David Odonkor and Jerome Boateng, from under our heavy noses, it was refreshing, almost poetic justice that, the one that bore their indigenous name, Schlupp, is the one who got away.
Well, that was 2011, Schulpp was then coming into his own, holding so much promise; it was the perfect coup that Ghana got him. Unfortunately, the natural trajectory Schlupp was expected to navigate up north rather went south.
However, just when you thought he was going to be a forgotten man, Schlupp is back in the limelight, staging a coup of his own; per his stellar performances at left back for Leicester City in the English Championship, he might just force his way into Ghana's final 23 man squad for the 2014 World Cup in Brazil. How credible is Schlupp's quest? Could he finally be the solution to Ghana's perennial left back problem?
THE PLAYER
Yes Ghana got him, but there is no denying his German background. Born on December 23, 1992 to Ghanaian parents in Hamburg, Germany, young Schlupp migrated with his family to England where he schooled in Milton Keynes. At age 12 in 2005, he joined the Leicester City youth academy until he was eventually promoted to the Leicester City senior side in 2010. Limited appearances saw him loaned out to League One side Brentford in 2011 to gain more playing time. It was around that time that he also got invited to the German U-19 team. 6 goals in 9 games for Brentford was enough for Leicester to recall him for the 2011/2012 season. His competitive debut took off to a bang under Sven-Goran Erikson, as he scored a hat trick in the League Cup tie at Rotherham United. Schlupp however struggled after that, as he was used sparingly in the center forward, left wing and left back roles.
The 2012/2013 season will however be significant as he caught the eye of then Manchester United coach, Alex Fergusson, who offered him a 3 week trial in January 2013.
And while he wasn't given a contract by Fergusson, his confidence got a massive boost. This season, 2013/2014, playing in the stead of injured former English international left back, Paul Konchesky http://en.wikipedia.org/wiki/Paul_Konchesky , Schlupp has seized the spot, made it his own, kept out Konchesky and helped Leicester gain promotion to the English Premier League.
Though the plaudits have followed, Schlupp insist he is taking it all one day at a time. One achievement is down and next up will be selection into Coach Kwesi Appiah's squad for Brazil. Schlupp's ambition is clear, he is ready to go to Brazil in whatever role Appiah picks him, hear him "I don't mind how he (Appiah) wants to use me. I would go to the World Cup even as the kit man." Such encouraging resolve! But does he have what it takes to excel in a Black Stars kit?
WHAT HE BRINGS
Many have auditioned, but none has convincingly owned the role; Emmanuel Addoquaye Pappoe, Habib Mohammed, Hans Adu-Sarpei, Masahudu Alhassan, Baba Abdul Rahman, Harrison Afful and David Addy in recent years have all "courted" the role, but apart from Sapei, none has won the heart of "Miss Left Back".
The search is on and Schlupp will be counting on his current form to gate crash the World Cup party. Indeed, Schlupp has quite a good chance considering his skill set.
By no means are the above players inferior to Schlupp by any stretch of imagination. Indeed, some of those players probably possess higher technique than Schlupp but what Schlupp brings is what many Ghanaians have been looking for. What could that be? Basic defensive cover.
It is why a right footed player like Hans Adu Sarpei flourished to some extent in that role. Schlupp brings that and more. He may not dance and weave like a Harrison or an Addy would, but he would clear his lines in an unfashionable manner, he would be strong and timely in his tackles and when he overlaps upfront with direct runs, he possesses the searing pace to recover. Nothing over the top; simple, calm, and effective defending at left back.
For the naysayers who believe he is still a rookie, untested on the international scene, Schlupp would more likely than not get the chance to clear all doubts when as expected Ghana coach Kwesi Appiah offers him a chance in the friendly matches leading up to the World Cup.
Should he pass the test and protect Ghana's goal at the World Cup, he will be seen as a savior of sort, and in typical Ghanaian style he might be rechristened Jeffrey "Agyenkwa" Schlupp, the solution to Ghana's problematic left back position. Could he? Could he not? The jury is still out.
[email protected] mailto:[email protected]  Follow me on twitter @niithesoccerguy