PICTURE: Ex-Arsenal star mocks Nicklas Bendtner with Ballon d'Or message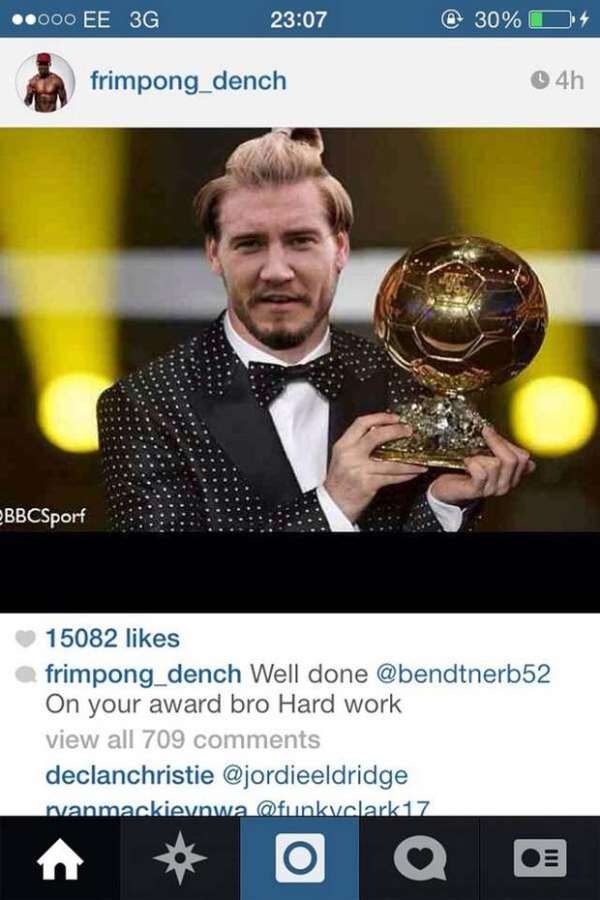 Nicklas Bendtner
Emmanuel Frimpong is now an ex-Arsenal player, and he will soon be joined in that status by  Nicklas Bendtner http://hereisthecity.com/en-gb/topic/nicklas-bendtner/ .
The Dane's contract is set to expire in June, ending his long association with the club.
At the weekend recently departed midfielder Frimpong sent Bendtner a message via Instagram, with a little mickey-taking at his expense.
It depicts Bendtner as a guest of honour with Real Madrid, celebrating with the Ballon d'Or trophy.
Bendtner famously said earlier in the season he would consider a transfer to Real or Barcelona.
Frimpong's message said simply:  "Lord  @bendtnerb52 http://instagram.com/bendtnerb52  I miss you"
Could it be that a more likely destination for Bendtner this summer is actually being re-united with Frimpong at Championship bottom side Barnsley?