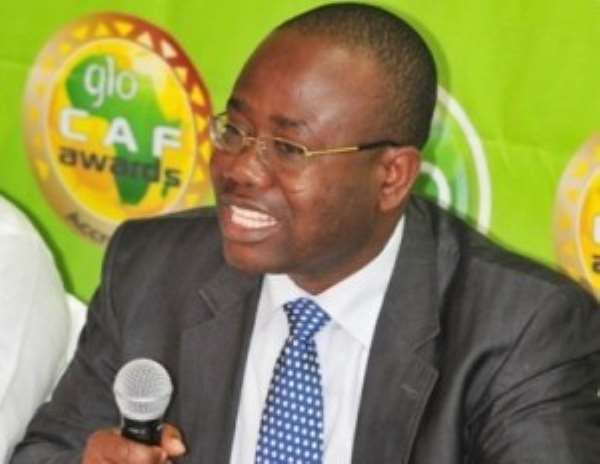 111104F_Glo_AFPLY _CT
Africa Top Sports reported earlier on the final draw for the 2014 Brazil World Cup http://en.africatopsports.com/wp-content/uploads/2013/12/nyantakyi1.jpg which saw the so called http://en.africatopsports.com/2013/12/08/2014-world-cup-draw-africa-face-a-big-challenge-all-groups/ 'Group of death' of Ghana set to outclass Germany, Portugal and the USA in Group G to reach the first knockout stage of the world's most prestigious football competition.
Black Stars captain Asamoah Gyan already made proof of his determination http://en.africatopsports.com/2013/12/08/world-cup-draw-ghana-captain-believes-they-will-defy-portugal-germany-and-usa-in-group/ saying his side made up of world class and experienced players evolving in European major leagues, is strong enough to defy any team in the world and released no bit of fear for any of draw opponents.
The man who released a declaration going in the same viewpoints as Gyan is no one but Ghana FA boss Kwesi Nyantakyi who believes Ghana is accustomed to being housed in difficult World Cup groups.
So Nyantakyi thinks Ghana's group cannot prevent the men of Coach Kwesi Appiah from getting successfully out the group stage of the competition.
'On paper we appear to be the underdogs. It was the same situation in 2006 (Germany finals) , Nyantakyi said.
'Then Czech Republic was number 2 in the world, Italy was number 5 or 6, and the United States was among the top 10.
'We were not ranked at all and yet we caused a big surprise by qualifying with Italy to the second round.
'I believe that with the experience we have gained from the two previous World Cups, we are in a better position to cause more surprises.'
Ghana have in their two previous appearances in the World Cup finals advanced from the Group stage despite difficult groups.