ATP World Tour Finals: Djokovic dismisses Wawrinka to face Nadal in the final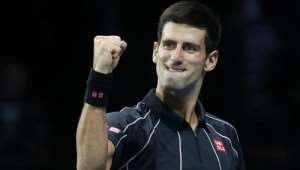 novakk111e
http://en.africatopsports.com/wp-content/uploads/2013/11/novakk111e.jpg In-form Novak Djokovic set up a title showdown with Rafael Nadal at the ATP World Tour Finals in London with a convincing 6-3 6-3 victory over Stanislas Wawrinka .
Despite putting up a real fight in the first set, Wawrinka could do little to stop the world no 2 recording a fourth straight triumph over him in the year and a 14th in succession.
Djokovic has just stretched his unbeaten run to 21 matches. But the Serbian thinks it is not the word to get qualified as unbeatable player.
"I don't think it's the right word to say I'm unbeatable. Nobody's unbeatable, " Djokovic said.
"Being in the moment and taking it one step at a time helps me keep my focus."
The finale will see the world's No 1 Nadal going toe-to-toe on Monday night with reigning champion Djokovic getting the chance to face up to the man who replaced him at the summit after the US Open.