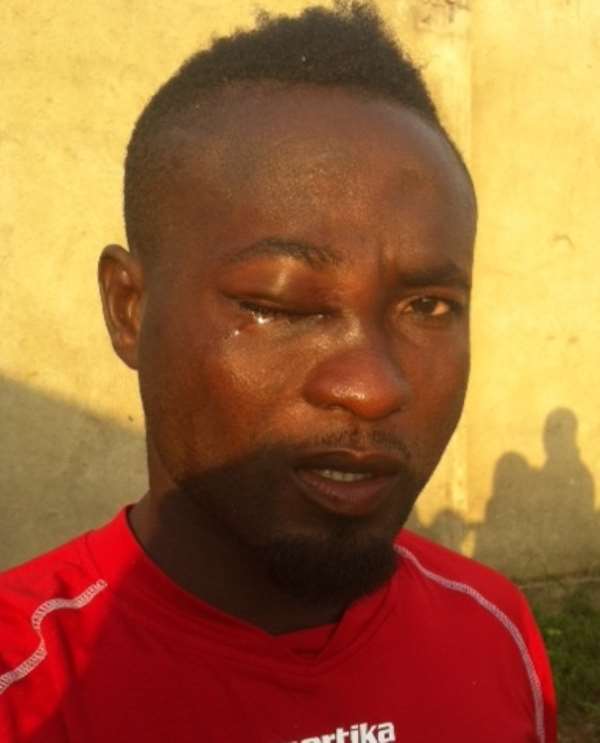 Swollen-eyed Joseph Tekyi Menson
Inter Allies are peeved at the apparent lack of protection for their players during their 1-0 loss to New Edubiase where midfielder Joseph Tekyi Menson suffered a bad injury.
The Ghanaian top flight rookies were handed their fourth straight defeat in the midweek clash in Berkwai.
A late strike by James Boadu proved enough to sink Allies who are still in search of their first Premier League point(s).
The club officials have however complained bitterly over the conduct of the match officials led by centre referee Fred Andoh.
Experienced midfielder Joseph Takyi Menson finished the match with a swollen eye after emerging worse off in a tussle for the ball without any punishment.
The Tema-based club now say they are seriously considering lodging an official complaint to the Ghana FA over the 'biased' conduct of the match officials in Wednesday's defeat.
"Every single foul was going to New Edubiase whiles our players were being fouled persistently without any decision from the referee," Allies' Public Relations Officer Mohammed Alhassan told GHANAsoccernet.com.
"Our players were not given any protection by the referee and you could clearly tell our boys were frustrated on the day.
"We are considering this option [to officially protest] and will soon make our decision known."