Sports Minister Hosts Tagoe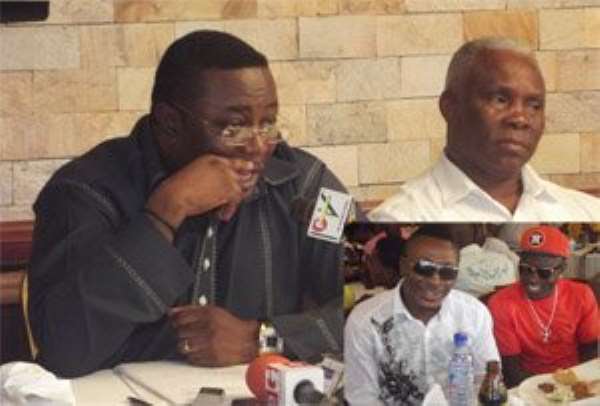 Hon Afriyie-Ankrah with Rabbon Dodoo, a GBA Executive on the high table at the Restaurant: INSET: Tagoe and Manager Baffour Gyan
The Minister of Youth and Sports Elvis Afriyie-Ankrah yesterday took time off his busy schedule to have lunch with boxer Emmanuel Tagoe at the Chinese Restaurant in Osu, Accra.
Also at the luncheon were Richie Oblitey Commey, the IBF International Lightweight champion, some kick boxing champions as well as executive members of the Ghana Boxing Authority (GBA).
The sports chief tasked the boxers to go the extra mile by winning the real world title.
'Go out there and win the real World title. Maintain our pride of place regarding boxing and don't be complacent.
'Modern sports have become professional and business. The era when government shouldered all the responsibilities are over, although government plays vital roles in sports development and promotion.
'It is high time the private sector partnered government for the development of sports. I urge the leaders of the various sporting disciplines to be IT-oriented, be active on social media networks,' the Minister said.
He urged the boxers to retrace their roots by giving back to their respective communities when they succeed saying, 'It is unfortunate that all those who excelled in the past have not given back to the areas where they started. I urge you to support the communities where you started even if it is a dime. It is then that the community will bless you and that particular sportsman will excel.'
  By Kofi Owusu Aduonum