More fighting in Darfur after 100 killed: Sudan tribes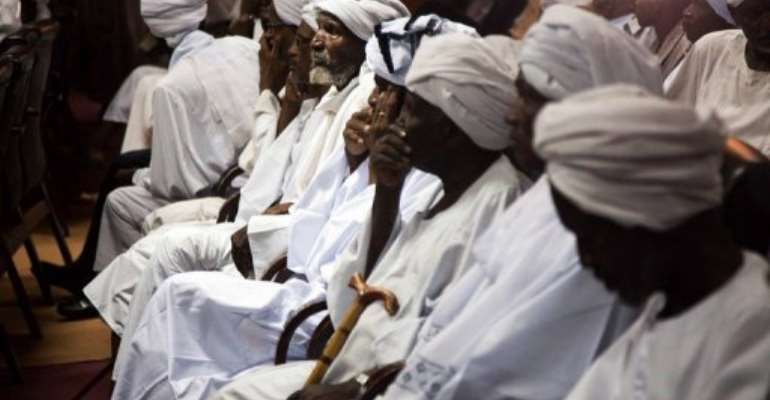 KHARTOUM (AFP) - Fighting between rival Arab tribes rocked Sudan's Darfur region for a second day Sunday after 100 people died in unrest that has already killed hundreds this year, tribal sources said.
Battles were taking place in the Adila area of southeastern Darfur, the sources said.
"The fighting today spread to many areas," said a member of the Rezeigat tribe which has been fighting the rival Maaliya since Saturday.
"I saw some wounded Rezeigat taken to the hospital in Ed Daein on Land Cruisers," he said, asking for anonymity.
Ed Daein is the capital of East Darfur state.
A Maaliya resident confirmed fighting south of Adila, and a doctor in Nyala city to the west told AFP that some wounded Maaliya had been taken there for treatment.
They were not able to give casualty figures for Sunday's fighting but tribal sources said dozens had died on Saturday.
"We clashed with Maaliya... and we destroyed a compound of theirs and killed 70 of them," another Rezeigat source said, declining to be named.
"We lost 30 of our men."
Both tribes said fighters used Land Cruiser vehicles, while the Maaliya accused their opponents of employing "heavy weapons" -- a common allegation in Darfur's tribal fighting.
A Maaliya source said the Rezeigat "attacked" and burned villages but declined to say how many from his side had died on Saturday.
The Maaliya "killed 40" of their adversaries, he said.
Inter-ethnic fighting has been the major source of violence in Darfur this year, where an estimated 300,000 people were displaced in the first five months alone, the African Union-UN peacekeeping mission in Darfur (UNAMID) says.
East Darfur had been relatively free from the unrest, much of which has occurred in Darfur's north and west.
Late last month in North Darfur state, another branch of the Rezeigat inked a peace deal to end a separate conflict with rival Arabs from the Beni Hussein group.
A member of parliament said their battles killed hundreds over several weeks.
And the Misseriya and Salamat Arab tribes announced less than two weeks ago they had reached a tentative ceasefire after fighting which one of them said killed more than 200 people.
These battles reflect the altered dynamics of a decade-old conflict in which, observers say, the government can no longer control its former Arab tribal allies known as Janjaweed.
With the situation changing, the United Nations Security Council called last month for a review of the UNAMID mission, which has encountered criticism that it has not used its full powers to counter the upsurge of violence.
Non-Arabs in Darfur began a rebellion 10 years ago against what they saw as the domination of Sudan's power and wealth by Arab elites.
In response, the government-backed Janjaweed militia shocked the world with atrocities against them.
Although the rebellion continues, analysts have warned since at least 2010 that relations were souring between Khartoum and the Arab tribes it armed to fight the insurgency.
Tribal disputes have been driven by conflict over resources including land, water and mineral rights, observers say.
A Rezeigat source said the latest violence too is linked to a land dispute.
There had been tension between the Rezeigat and Maaliya for days. Their tribal councils had appealed for peaceful resolution of the land dispute, the state-linked Sudanese Media Centre reported last week.
Prior to this year's surge of violence, there were already 1.4 million people in camps for those uprooted by the conflict in Darfur.
Although the number of displaced has risen, the UN has said it had to reduce its humanitarian assistance because the government failed to renew permits for some of its international staff in Darfur.
Sudanese President Omar al-Bashir is wanted by The Hague-based International Criminal Court for war crimes, crimes against humanity and genocide allegedly committed in Darfur.