Donors pledge hundreds of millions for war-torn Mali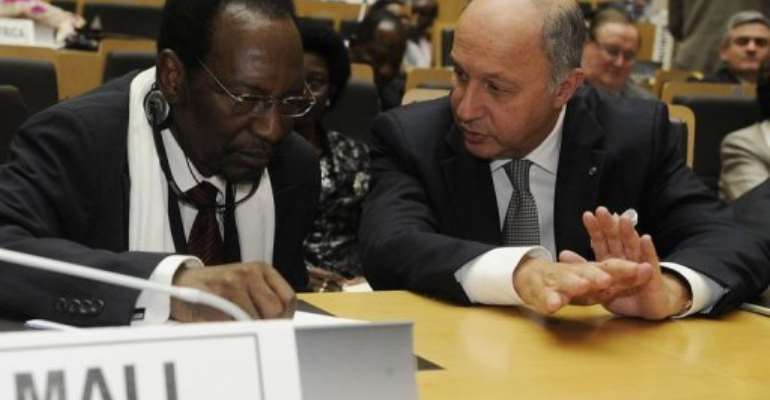 ADDIS ABABA (AFP) - African leaders and international officials pledged hundreds of millions of dollars at a donor conference Tuesday for military operations against Islamist militants in Mali and humanitarian aid.
Malian President Dioncounda Traore thanked the "entire international community" as nations offered cash or support at the top-level meeting at the African Union headquarters in Ethiopia's capital.
While over $600 million was so far pledged Tuesday -- including over $120 million from Japan and $96 million from the United States -- how much would be spent on backing the key African-led military force was not immediately clear.
"The whole world has gathered here, it's very good for Mali," Malian Foreign Minister Tieman Coulibaly added.
The conference comes a day after French-led forces seized Mali's fabled city of Timbuktu from Islamists as part of an offensive against the radicals who have controlled the country's vast desert north for 10 months.
African leaders and officials, as well as representatives from the United Nations, European Union and China are also taking part in the conference.
"We all know the gravity of the crisis," AU Commission chief Nkosazana Dlamini-Zuma told the conference, which is hoped to provide funding for the African-led force for Mali (AFISMA) supporting Malian troops.
"It is a situation that requires a swift and effective international response for it threatens Mali, the region, the continent and even beyond."
The AU has promised to contribute $50 million, but has estimated the AFISMA force will cost $460 million.
There is, however, no clear figure for how much the conference is aiming to raise, although diplomats have suggested some $700 million will be needed for AFISMA and the Malian army, in addition to heavy humanitarian costs.
Alassane Ouattara, president of Ivory Coast and chairman of 15-nation Economic Community of West African States (ECOWAS), which has led the deployment of AFISMA, said there was an "urgent need to speed up the deployment".
A woeful lack of cash and logistical resources has hampered AFISMA in its support of Malian troops against Islamist forces who seized swathes of the arid north after a coup last year.
So far, just 2,000 African troops have been sent to Mali or neighbouring Niger, with the bulk of the fighting borne by some 2,500 French troops, who launched a military offensive on January 11.
"We are gathered here today to provide AFISMA ways to carry out its work of restoring the sovereignty and integrity of Mali, prerequisites for lasting political stability," said French Foreign Minister Laurent Fabius.
Mali's president also called on the wider Muslim world to support efforts and show that "Islam at its heart does not serve as a cover for terrorism and organised crime."
UN leader Ban Ki-moon warned ahead of the conference there was a "moral imperative for the entire international community" to provide support.
Ban, speaking at the 54-member AU's two-day summit meeting which closed late Monday, and which was dominated by discussion on the conflict in Mali, said he was "determined to help the people of Mali at this critical hour."
UN political affairs chief Jeffrey Feltman told the conference that the situation was "urgent", warning that "the insurgent groups in Mali pose a threat to national, regional and international peace."
Support pledged would allow Malian and AFISMA troops to "quickly consolidate the gains made and to stabilise areas that have been wrestled from control from the insurgent groups," he added, noting "the challenge before us is enormous".
AU chairman and Ethiopian Prime Minister Hailemariam Desalegn thanked France for "timely support" in its military intervention in Mali, as well as praising west African troops in AFISMA.
"Forging strong coordination... will enable us to speedily restore the territorial integrity of the country, and progressively address the challenges of terrorism and extremism in the region," he said.