November 12, 2012
|
Sports News
Adjei's cracker wins it for Amidaus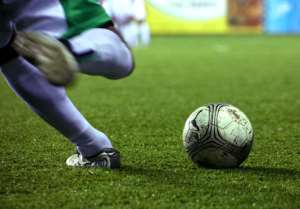 Accra, Nov 11, GNA - A second half goal by Selasi Adjei was all Amidaus Professionals required to grab all three points in their week seven Glo Premier League game with Berekum Arsenals at the Tema Park.
The goal, which came in the 66th minutes was a reward for the homers second half hard work in a game firmly dominated by Arsenals in the first half.
Amidaus had looked good on the break in the first half with Yahaya Mohammed's free kick in 23rd minutes, which deflected off the wall as the brightest opportunity for the victors.
Arsenals turned their guns on their host after that scare, but was it Mubarak Moro who was unlucky to see his effort missed target in a close shave.
Soon Arsenals set camp in front of the homers area and through Ishmael Aryee, led an onslaught that left Amidaus defence in six and sevens as they laboured to unlock the defence and hardly posed any threat to goalkeeper Eric Ofori Antwi.
Amidaus causes a rear break and when Mohammed got into the end of a fine pass from the middle, the striker proved wasteful in 33rd minutes, when he had goalkeeper David Yartey already compromised.
Two minutes on, Mohammed sought to make amends with a half volley which directly ended in the hands of goalkeeper Yartey to keep the scores barren.
From recess, Amidaus walked straight into attack and after Mohammed twice got denied by goalkeeper Yartey, obviously the brightest spot on the pitch, it was the turn of Kofi Koomson who wove well from midfield before unleashing a thunderbolt which Yartey rose to tip to safety.
A goal appeared in sight after a series on attacks from Amidaus and when Adjei sent Amidaus ahead in 66th minutes following an invasion which he capped with a fine long range, it was a reward for hard work.
GNA