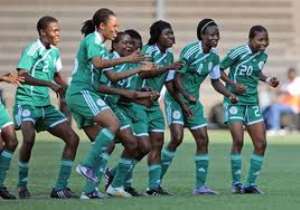 Accra, July 24, GNA – Edwin Okon, Head Coach of the Nigeria U-20 Women's football team, the Falconets has lashed out at their Ghanaian counterparts for their physical approach during Tuesday's international friendly at the Accra Sports Stadium.
The Falconets suffered a 2-3 loss to the Ghanaian side, the Princesses in the first of two warm-up matches at the Accra Sports Stadium, but coach Okon is the least enthused about the hard tackles launched on his players by the host team.
"Look at the way they were tackling my players. You can't play a friendly match like this," a visibly upset Okon told GNA Sports after the match.
According to the Nigerian coach, one of such tackles resulted in midfielder Esther Sunday sustaining an injury, which ensured she did not finish the game.
"I have lost one of my players (Esther Sunday) due to the physical play from the Ghanaians," he added.
Okon even threatened to boycott Thursday's final match of their two-match training tour of Accra.
"We won't play again on Thursday. We are not coming for the match," the furious trainer fired.
However, Ghana coach Robert Sackey expressed huge surprise at the reaction of his counterpart regarding the physical approach by his players.
"Everyone saw the game and you can make your judgement," noted Sackey.
Ghana and Nigeria will represent Africa at the 2012 FIFA U-20 Women's World Cup scheduled for 19 August to 8 September in Japan.
GNA