Gyan Hints At Quick Ghana Return - GFA Hopeful Of Return In Sept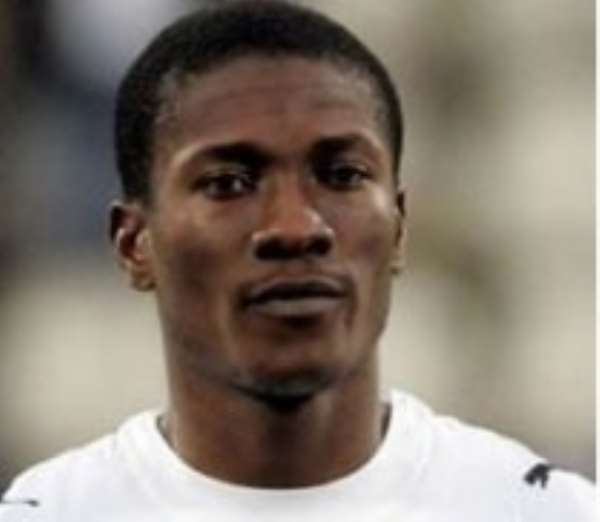 Striker Asamoah Gyan
Ghana striker Asamoah Gyan has hinted that he will make a quick return to the Black Stars just days after announcing his decision to take time off his international career.
The Al Ain attacker reiterated his commitment to the Black Stars stating that he will continue to serve his country, with Ghana Football Association Vice President, Jordan Anagblah hinting the striker might return by September.
In an emotional statement released by the UAE-based striker Monday, Gyan called for 'prayers and support' as he seeks to deal with the emotional stress stemming from his penalty miss at the Africa Cup of Nations and abuse he received from Ghanaians subsequently.
Gyan expressed his contrition over the penalty miss revealing the emotional hurt since missing another key penalty for the country, but promised to return to the national team stronger.
The UAE-based striker took a break from international football last Saturday in the wake of the criticism levelled against him following his penalty miss in the semi-final against Zambia.
'Firstly it's important that I express my sincere apologies to my country. I never intended to make a decision like this early on in my career psychologically I am down,' Gyan said in a statement.
'As you can imagine it's been very hard for me mentally to miss two important successive penalties for my country and because of this a break to recoup my thoughts and emotions will aid me to come back bigger and mentally stronger.
'I never fully recovered from 2010 World Cup and now 2012 Nations Cup.
'I want my country to know I love playing for them and I wouldn't be who I am without them.
'I would like to ask for prayers and support from Ghanaians to help me to come back with a renewed strength to continue serving my country.'
Only yesterday, Mr Anagbla told supersport.com he had spoken to Gyan and was confident the striker would return in September.
'I spoke to Gyan this morning. It's a hard time for him, but he will be back for us in September.'
Anagbla also described Gyan as 'a very, very brave boy.' September is a short time for Gyan to recoup from his self-admitted mental blocks, something which the FA boss agrees to.
The Al Ain strikerhas been subjected to extreme abuse since missing the penalty against Zambia which could have helped the Black Stars to reach the final of the tournament.
He also missed a penalty against Uruguay in the quarter-final of the 2010 World Cup in South Africa.
The Ghana Football Association has started talks with Gyan to ensure that he makes a quick return to the Black Stars.
If Gyan returns in September, it means he will not be available for his country's two qualifiers with Lesotho and Zambia for the next World Cup. However, he should be available for the qualifiers for the next African Cup to be held in South Africa. —MTNFootball.com