Plavi's JUDGEMENT DAY is here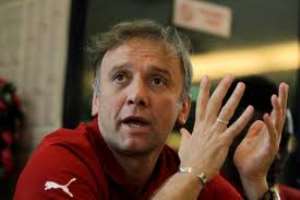 The fate of Black Stars coach Goran Stevanovic has finally been decided and information close to El-Amisty Nobo has it that the decision to sack or retain the Serbian tactician will be settled today 19thMarch, 2012 but one thing is certain, Goran Stevanovic is no more the coach of Ghana.
The coach who guided the Black Stars to their last Nations Cup in Gabon/Equatorial Guinea 2012 came under severe attack from the public, the media and even some members of the executive committee of the Black Stars after the tournament which was won by Zambia.
The decision to sacking Plavi has been left hanging in mid air for some time now and this has agitated most followers of the game because the Black Stars has less than two month to start preparation for the 2014 world cup and the 2013 AFCON in South Africa.
Now that Coach Goran Stevanovic has become a goner, what becomes of the apathy which has suddenly raised it ugly head in the members of the executive committee of the Black Stars?

By: El-Amisty Nobo/Freelance Journalist