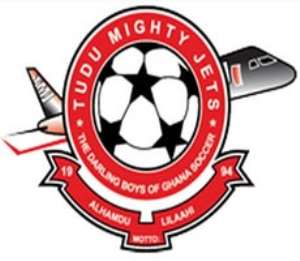 The battle for Premiership survival moved to another level on Saturday when Tudu Mighty Jets managed to grab all three points to boast their journey up by spanking visiting Bachem United 3-0 in their Glo Premier League meeting at the Accra Sports Stadium.
The two locked deep in the relegation zone on ten points, knew only a win could give any of them a temporary breather and Jets took advantage of a scrappy performance from the visitors to squeeze three past them to improve their standings on the log.
The display of both teams' underscored why they were trapped at the foot of the table throughout proceedings, however, it was Jets who had opportunities to go ahead which they wasted until sloppy Sidi Abubakar sent them ahead in 28 minutes.
Abubakar was gifted from poor defending by the Bechem United's rear after Taminu Muntari had sent in a measured in-swing from a corner kick which eluded the jumping defenders for the ball to fall to the former to slot home from close range.
Motivated by the opener, Jets upped their game in search of another to solidify their lead, which followed only three minutes on when advancing Muntari was brought flying in the box of United.
Muntari had torn away from the middle and sent the sloppy United defence in six and sevens before he was brought down for referee Vincent Otoo to award a spot kick which Emmanuel Laryea easily scored for the homers second on the day.

The second goal destabilized United who for the entire duration of the game failed to create a single decent opportunity which irritated their scanty travelling fans who hurled insults at the players while they were heading to the dressing room during the break.
From the recess, the tempo of the game was slightly upped but quality was still missing with chances remaining scanty. In-between play, United's Richard Addai was unlucky to have been denied a goal when he missed the post narrowly after surging beautifully upfront.
However, on the stroke of the hour mark, Jets tripled their lead when Salifu Mamuda went through the United defence like a hot knife in a butter after some apology of defending from the visitors to seal the game for the homers.
With the die cast, Bechem United launched a late attempt for a consolation goal but Yaw Mensah's well calculated attempt from a free-kick close to the final third of Jets only missed target narrowly.