Pentagon chief eyes close partnership with Libya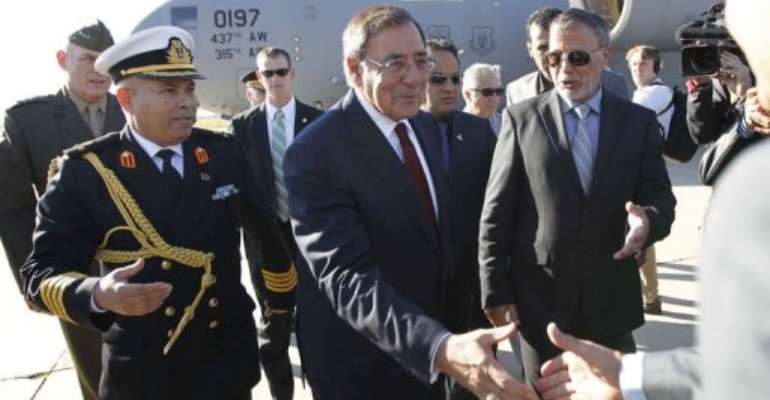 TRIPOLI (AFP) - US Defence Secretary Leon Panetta was in Libya on Saturday to confer on the security needs of the new government, saying he envisioned a close security partnership with it.
During the visit, which was to last only a few hours and is the first by a Pentagon chief, he met Defence Minister Osama Jouili and Prime Minister Abdel Rahim al-Kib, an AFP correspondent travelling with him said.
"The purpose of my trip to Libya is to have an opportunity to look at that situation up close but to also pay tribute to the Libyan people to what they did in bringing Kadhafi down and trying to establish a government for the future," Panetta told the travelling press.
"There are going to be challenges here, there are going to be difficulties, but I think any country like Libya, that was able to do what they did and showed the courage that they did... I'm confident that ultimately they're going to be able to succeed in putting a democracy together in Libya.
"The indications I've had are that they're making progress, trying to bring the tribes together, trying to get the country together.
"They have earned the right to try to determine their future, to work their way to the issues that they're going to have to confront.
"Obviously, we're prepared, if they want, to provide whatever assistance they ask us to do. NATO countries have indicated the same willingness to do that."
Speaking later, Panetta said he believed "this new and free Libya can become an important security partner of the United States" and that Washington was looking forward to building a close partnership.
"We stand ready to offer whatever assistance in the spirit of friendship and a spirit of mutual respect."
Enforcement by the Atlantic alliance of a UN-mandated no-fly zone over Libya was crucial in the months-long battle to oust Kadhafi that began in February.
Libya's new rulers are facing a big challenge as they try to disarm militiamen who fought to topple Kadhafi and secure thousands of surface-to-air missiles stockpiled under the former regime.
Pressure to disarm the former rebels has mounted after local media reported several skirmishes between militia factions in Tripoli, with some resulting in casualties.
There are concerns that the Man-Portable Air Defence Systems, or MANPADS, could be used by militant groups against commercial airliners and helicopters.
Panetta will also lay a wreath at the graves of 13 US sailors killed in 1804 when their ship exploded during the very first foreign intervention by military forces of the recently independent United States against pirates based in north Africa.
The Pentagon chief travelled to Libya from Turkey, where he held wide-ranging talks. On Thursday, he was in Iraq to take part in a ceremony marking the end of the US mission there.
His visit came a day after the United Nations and the United States lifted sanctions on Libya's central bank in a bid to ease a cash crunch in the post-Kadhafi era, diplomats said.
The UN Security Council ended a freeze on the assets of the Central Bank of Libya and the Libyan Foreign Bank, which was ordered in February as part of sanctions against Kadhafi.
The US government said it would be freeing more than $30 billion (23 billion euros) of assets belonging to the central bank and LFB in a bid to help the new Libyan government.
The Tripoli authorities have stepped up calls in recent weeks to release the estimated $150 billion frozen abroad to help pay salaries and keep services running.
On top of the $30 billion held in the United States, British Foreign Secretary William Hague said his government would immediately act to free about 6.5 billion pounds ($10 billion) held in Britain.
The easing of the sanctions "marks another significant moment in Libya's transition," Hague said in a statement.
"It means that Libya's government will now have full access to the significant funds needed to help rebuild the country, to underpin stability and to ensure that Libyans can make the transactions that are essential to everyday life."