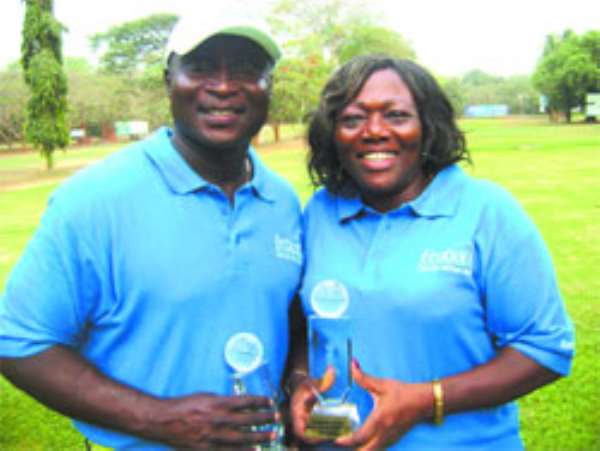 After an illustrious soccer career, former Frankfurt/Leeds United goal buster, Tony 'Yegola' Yeboah, has now shifted his attention to golf.
And like he did with his feet, Yegola is gradually finding his feet in the bourgeoisie game, and is making strides with his impressive swings.
Four days ago, Yeboah, an 18 handicapper came close to running away with the ultimate prize of the Ecobank Golf  tourney at the Achimota Golf Club.
Already, he has won some supporting events, like the Otumfuo Golf tourney two times, and a few other competitions.  In a post-tourney interview with this writer, the ex-Okwawu United forward revealed that he had an exaggerated opinion about golf.
'I thought it was a game for the aged, until I started playing  the game, after a friend introduced it to me.
I have realized it is a more relaxed but active game,' said the former Black Stars deputy skipper.  Responding to the fact that the game serves as an avenue for business networking, he responded in the affirmative.
'It is true, you meet all the people who matter in life on the course, and the game is very addictive, you always want to play,' he said in plain words.
He is currently the CEO of a Division Two side, Yegola FC, and it is his wish that a star like him or another Essien will emerge from his team in future.