ANGOLA 2010: Waiting to exhale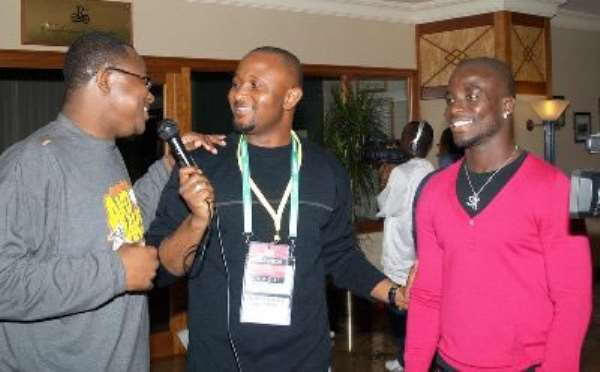 Yaw Ampofo Ankrah (middle) interviewing some football stars at a recent event

You always know a football tournament is nearing a flop when people talk more about off-the-pitch incidents than action on it. So I was not alarmed to hear ´Ghanaian journalists cause trouble in team camp.´ That was the interpretation given to a headline on national radio just a few hours following the brutalization of Fiifi Tackie.
The poor chap was beaten like a thief caught in a market.
As we listened, I asked our Angolan guide, Neto, to explain further and the odd thing about the story was that when the newsreader got to the core of the issue, he simply read a statement from the local police chief warning fans and journalists not to abuse Angolan hospitality and to behave or else...
The fact of the matter is the security officials here have not been trained to COMMUNICATE with people. They are experts at DEALING with opponents. So those of us who came here expecting open arms and pleasantries quickly adjusted to the military style approach of our hosts.
Hospitality at CAN 2008 is as rare as a Hearts versus Kotoko match without incident.
You walk into a shop and ask for assistance and the attendant stares at you or looks the other way. There is a feeling that this tournament was forced on the people by the big man (President Eduardo Dos Santos) and his government...as well as CAF 'owner' Isa Hayatou.
I wonder if much would have been different had the tragic Togo ambush not taken place.
This is not the right time to draw conclusions about CAN 2010 because, in theory, the tournament has only reached the halfway mark. But in the hearts and minds of many, it is a sad apology of Africa´s finest showpiece soccer event.
For now, I will stick to my candid opinions based on what i have experienced and seen of this beautiful country over the past few days. The FACTS:
Angola is officially the most expensive place to LIVE in AFRICA (Some say the world).
A good lunch at the media village in Cabinda was $25....coke $8.....transport from airport to hotel $50.
The tournament is nowhere near as electrifying as Ghana 2008 especially when the hosts are not playing.
It is no exaggeration if I say so far this has been one of the poorest organized African Cup of Nations I have covered.
We journalists have been left to fend for ourselves by CAF and at the mercy of hotel owners.....taxi drivers.....cyber cafe operators....and even getting a good internet cafe to send a story is an expensive affair.
The saddest aspect of CAN 2010 is that the competition itself has not been too bad as we have witnessed some great games and goals. Politics is about one man President Eduardo Dos Santos.....he is like a god and has ordered shops to close at noon any time Angola play.
Fifteen percent of the population live very comfotable affluent lives but most of the citizens struggle to make ends meet on a day to day basis.
The Black Stars? The team is going through a transition so we have to be patient. If we can get goals and win against the hosts on Sunday then it will be interesting and may provide tricky security headaches for CAF and the LOC...We journalists will stay put and cover the competition. Let us wait for the final whistle on the final day and the safe return of every player, official, journalist and supporter to complete the picture. Until then we have all taken a deep breath.....just waiting to exhale.
We need prayers because in Angola ANYTHING can happen.
Yaw Ampofo-Ankrah is the Sports Editor of Etv Ghana.
He has previously worked at TV3, Metro TV, Joy FM and the BBC in London. He is covering the African Cup of Nations in Angola for Etv and Yfm in Ghana.