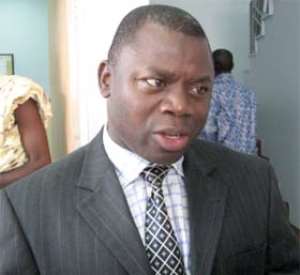 Alhassan Andani, MD of Stanbic Ghana
Stanbic Bank has launched the first online and mobile Fantasy League for African football dedicated to the Orange Africa Cup of Nations ANGOLA 2010 with a cash prize of $1500 at stake.
The bank has also launched a news website on the tournament to provide all the latest action, news, views and results of the matches at the tournament.
Standard Bank's Fantasy League is the first continental sports league, and the first to be linked to this major African football tournament. 
Fantasy teams can be made up of players from any of the 16 nations participating in the event and participants stand the opportunity of winning a top prize of $1500.
A news release said football fans, journalists and the public should log on to www.standardbank.com/afcon for daily news, team guides, match previews, results, images and blog from Standard Bank's African Football Ambassador Abedi Pele.
The Fantasy League is available to both online and mobile users. Fantasy managers can select their team by visiting www.standardbank.com/afcon or the WAP site.
"Standard Bank is committed to football on the continent and is constantly seeking ways to make meaningful connections with our customers, stakeholders and staff through our shared passion for African football," says Clement Motale, Director Group Sponsorships, Standard Bank.
Meanwhile, officially accredited African photographers covering the Africa Cup of Nations tournament in Angola have the rare opportunity to win $10,000 in a photographic competition being organized by Stanbic Bank.
Standard Bank, the official financial services sponsor and the Confederation of African Football (CAF) are seeking an iconic image that captures the passion, excitement and euphoria of the Africa Cup of Nations Tournament of 2010 in Angola.
"As the sole African sponsor of AFCON, Standard Bank understands that football unites Africans, and would like to use this football showcase to further the cause of development in Africa by Africans themselves.
As a result, we aim to nurture the talent of those who will be there to record the event for future generations of Africans to share in the beautiful game," says Clement Motale, Director of Group Sponsorship at Standard Bank.
The competition is open to officially accredited African photographers covering the event in Angola between January 10 and 31 2010.  Entry forms and competition details are available on the CAF website www.cafonline.com.