Bremansu: Get off Appiah's back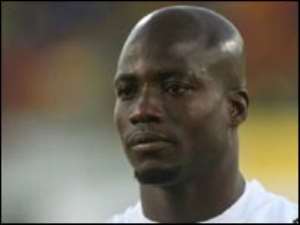 Appiah is training with Brescia A former member of the Black Stars, Robert Bremansu has defended the retention of captain Stephen Appiah in the national squad, praising coach Milovan Rajevac for keeping him in the squad.
 
Bremansu, a key player of the Black Stars in the late 70s, was reacting to talk in certain quarters that the inspirational captain be left out of the team because he clubless.
 
According to him, despite the fact that he is clubless, there is little doubt that he keeps himself in excellent shape in order to meet the demands of any call-up by coach Rajevac.
 
In a mood that could only be described as pensive, the former national star lamented over the situation where "more national football stars are virtually forced to retire prematurely."
 
"Look at Cameroon, they have a way of retaining their experienced players for as long as possible unlike us," Bremansu observed. 
 
"Just few weeks before the Benin game we played African champions Egypt in a friendly in Cairo and Appiah single-handedly saved the country by scoring and setting the other up in the 2-2 draw.
 
"Did we make such noise when he excelled in that game? We are being unfair to Appiah if we make such comments about him."
 
He explained that much as the best is needed from every player, it is not every match that they would perform.
 
"How could they be so ungrateful to a player, a captain at that, who sacrificed so much to get Ghana into the World Cup in 2006?," Bremansu quizzed.
 
"What they are doing could have a rippling effect on other players who called to the national soccer teams?
 
Bemansu who played alongside Willie Klutse, Asabir, Isaac Acquaye, Emmanuel Quarshie and others between 1978 and 80 in the Black Stars Squad, said by coming out in such manner against the Stars' skipper, "we only send signals that he is of no use any more and must therefore be discarded."
 
According to him, this is the time we should rally round Appiah to lessen the burden of his present clubless status that may naturally be weighing on his mind.
 
He explained that Ghanaians have a way of making their national stars not wanting to go the extra mile with such discouraging comments and cited players like Giggs, Bechkam as well Maldini and Inzaghi who are in their late 30s and still playing despite periods of low performances.
 
"In so far as Appiah is training with top team in Italy and continues to play his unifying role in the Black Stars, coach Milovan has done the right thing by maintaining him in the Stars and not relying on media negative comment of his skipper" he emphasised.
 
Source: Ghanaian Times