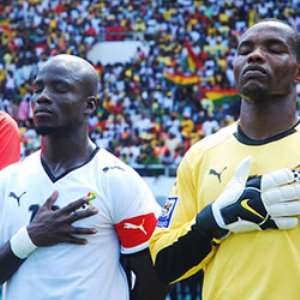 Ghana's past success appears to have set a new standard for the Black Stars with another World Cup qualifying campaign set to begin.
The Black Stars played in their debut World Cup in 2006 after past failures. But for many, qualifying for the 32-nation competition is a must after every four years.
Reaching the World Cup is not cast in stone for Ghana as Milovan Rajevac chooses to focus on just the game against Benin at the Baba Yara Stadium in Kumasi on 29th March.
The Serbian has insisted his team - which includes eight players who played a part in the 2006 World Cup - must avoid getting carried away by a celebrated past.
As expectation heightens ahead of Ghana's joint 2010 African Nations Cup and World Cup qualifier, Rajevac has reminded the Black Stars of their responsibilities as Ghana players.
"Taking part in the World Cup is priceless. The players are aware of that," the Ghana coach told www.ghanafa.org.
Rajevac is well aware of the pressures facing those who wear the famous national white shirt.
"Each of them who starts, on the bench, all of them should know that they should have one goal. And that is, Ghana qualifies (for the 2010 World Cup).
"I hope we are going to finish the way we want and expect. The players have to prove themselves. There absent ones will be back but until then, the ones available have a duty. The new players would prove themselves with the regulars."