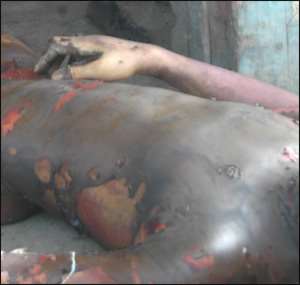 Winneba junction accident Seven persons died on the spot and many others sustained various degrees of injury after the Hyundai bus in which they were traveling from Accra towards Aflao was involved in a road accident at Sege, near Ada in the Dangme East District yesterday in what looks like an endless bout of bloody highway mishaps.
The freaky accident, like others which visited the country in recent times, took place late afternoon, leaving those who witnessed the extent of injuries and shredded human parts frightened.
An eyewitness, while narrating the unfortunate story, said that but for the timely arrival of the Police, the death toll would have surpassed the aforementioned figure.
The coach of the Red Bull Soccer Academy at Sogakope, who chanced upon the accident, is said to have provided a pair of supportive hands to the police in especially detaching the entrapped persons soon after the accident.
Another eyewitness, in his narration to an Accra-based radio station, Oman FM, said the spectacle at the scene was gory and unfathomable.
"At a certain distance, one could behold what looked like a flattened cardboard. On nearing the supposed cardboard it became mesmerizing how it happened since there was no vehicle nearby to suggest that there could have been a head-on collision."
Severed limbs and heads featured the accident scene, DAILY GUIDE gathered, as the police were busy doing all they could to save the entrapped persons.
The accident comes on the heels of the Winneba Junction accident which attracted a national outcry and saw President John Evans Atta Mills marching as it were, to the 37 Military Hospital to sympathise with the survivors of the gory mishap.
This latest in the series of accidents to visit the country since this year commenced, is certainly going to fuel more speculations about the cause.
While some Men of God ascribe spirituality to the unfortunate phenomenon and therefore demanding divine intervention through prayers and fasting, others think it is all about motorists altering their attitudes while behind the wheels.
The series of accidents which struck the country last week, killing over forty persons, have barely been confined to the annals of road mishaps than Ghanaians wake up to yet a fresh carnage.
Many Ghanaians are rightly asking, "when will the spectre of fear be eliminated and how?"
By A.R. Gomda