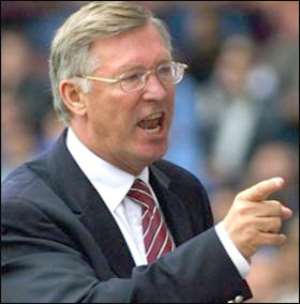 Alex Ferguson For the second consecutive week in the English Premier League crucial results have given Manchester United's challengers a sniff that their old foe is floundering.
Fulham scored an unlikely 2-0 win at Craven Cottage over a 9-man Manchester United side that looked a shadow of the team on their way to re-writing the history books only a fortnight ago. Chelsea then had a chance to capitalise on the loss but were beaten 1-0 by Tottenham Hotspur, leaving only Liverpool to make the league leaders pay for their calamity. And this Liverpool did, with an emphatic 5-0 win over Aston Villa yesterday.  
Having now lost two consecutive matches for the first time in 147 games and in a season where they have only had 4 losses to date, the champions have lost their invincibility. With a game in hand, they have the chance to stretch the lead back to 4 points but will have to do so without Paul Scholes and Wayne Rooney who were both red-carded in the loss to Fulham.
Whilst the results of the past 2 weeks have made things interesting, most pundits still believe the title is United's for the taking- a view shared by victorious Fulham boss Roy Hodgson.
"I still think they are favourites, but the last two defeats have given those teams chasing them that little bit more hope," said Hodgson who lead his team to their first home win over United since 1964.
Sir Alex Ferguson had a much more circumspect view after the loss, telling MUTV "It's disappointing; we didn't meet the challenge".
"If you lose games in March and April it can cost you. Fortunately we have a slender lead     at the moment but not a lot and I'm hoping we can come back to our best," he added.
By Kate West