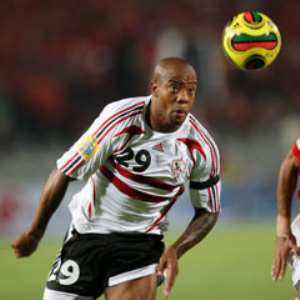 Agogo is hugely popular in Egypt Egypt striker Amr Zaki has revealed that he is a big fan of Ghana and Zamalek forward Junior Agogo.
 
   
Zaki, who has lighted up England with Wigan, is a supporter of Zamalek but left the club at the start of the season to play in the Premier League.  
Agogo was signed by Zamalek from Nottingham to replace Zaki but the Ghanaian has not settled because of problems with the new management of the team.  
Despite the Ghanaian's inability to hit the ground running in the Egyptian top flight, Agogo would be happy to know that he predecessor sings his praises.  
"Agogo is a very good player regardless of the difficulties he is going through," Zaki said in some dodgy English language in an interview with Ghanasoccernet.  
"I think if he stays with Zamalek things will get better."
 
 
Zaki managed to compose a song in Arabic for Agogo within fives during the interview with Ghanasoccernet.
  He also mimicked how the Ghana international celebrates when he scores with his fingers drawing imaginary circles around his ears.  
For more Ghana football news visit www.ghanasoccernet.com