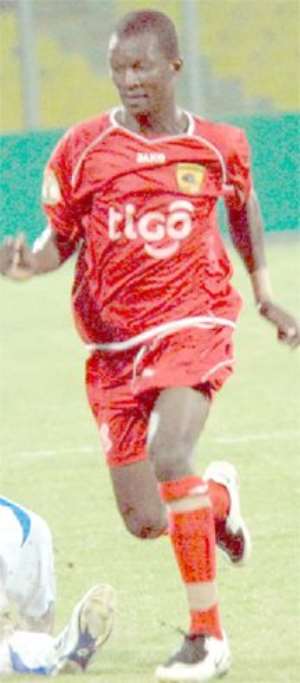 For Kotoko's offensive midfielder, Daniel Nii Adjei, playing for the Porcupine Warriors was a dream come true, and with his first season with the club ending on a brighter note, he is more determined than ever to make his second season a memorable one.
He has therefore resolved to train harder than before to be able to play regularly in both the local league and the African Champion Club competition and contribute to bring laurels to the club.
The history of Kotoko has proved that only a few players had been able to distinguish themselves by fitting very well into the regular team in their first season.
Wearing the Kotoko jersey for the first time, and playing at the Baba Yara Sports Stadium under the eagle eyes of an intimidating crowd is something most players have always dreaded.
Players who were outstanding and carried their teams on their shoulders have sometimes faltered miserably at the Baba Yara Sports Stadium as soon as they put on the famous red and white Kotoko colours for the first time.
Ironically, as soon as they left, they started making the headlines again, proving that, not all players had the heart to fit into the regular side of Kumasi Asante Kotoko.
Soccer fans who were regular at the Baba Yara Sports stadium could appreciate the contributions Nii Adjie made last season and would be eager to see him regularly in the Kotoko set up as the premier league resumes.
This was because he was able to justify his inclusion in the regular side of Kotoko and blended beautifully with the old and new squads making it possible for the team to conquer all opponents on the local scene and in Africa, they fared quite well in the CAF Confederation Cup competition.
As an offensive midfielder, he sometimes fell deep in defence, battling with opposing attackers to prevent them from scoring against his club, and also regularly supported the attacking machinery, rifling in shots when the need arose, and scoring some important goals for the club.
It was such performance that won the confidence of Coach Bashir Hayford to always select him as the first option during the 2008 soccer league season as well as the African Cup Competition.
When Graphic Sports caught up with Nii Adjie after a morning training session in Kumasi, he was full of delight for the role he played in Kotoko last season and promised that with God on his side, he would take his training very seriously and collaborate with his team mates to bring glory to the Porcupine Warriors when the league resumes.
"I feel very bad anytime Kotoko lose a match. This is because I do not want to belong to a losing side. That is why I try to play my heart out anytime I put on the Kotoko jersey to enable the team win its matches to make the fans happy", He said.
On how he started his soccer career, Nii Adjei said, "it was just by accident that I am playing soccer. This is because as a young boy, I was not allowed to go out to join my friends to play, neither did I feature for any colts club in Kumasi where I reside like most of my colleagues."
Explaining, he said, he helped his mother to sell her products after school "and that prevented me from joining my colleagues to play soccer which has always been my passion, and since I also did not play for my school team at Weweso, I could not develop my potentials early enough as required".
Recalling how he started playing soccer, he said he managed to play with friends anytime his parents were not around, and when he noticed that he had potentials, he quickly joined 'Norchip Stars' a second division team in Kumasi.
"About four years ago I learnt that Norchip was undertaking a justifier, so I went there to try my luck, and to my surprise, the technical team selected me to join the team which was then preparing for a tournament in Denmark, and that marked the beginning of my soccer career" he explained.
He said in Denmark he became the top scorer by scoring eight beautiful goals, even though he played as a defender.
From Denmark, he, together with some team mates, had a brief sojourn in France, but their dream of joining a club could not materialise so they returned home to propel Norchip to the first division before he joined the Kotoko Under 20 team.
"It was at the Kotoko Under 20 team that Talet Uzum spotted me and drafted me into the regular side of Kumasi Asante Kotoko where I had my first playing time at the Obuasi Len Clay Sports Stadium in a SWAG match, where Kotoko lost by a lone goal".
Nii Adjie who scored three Premier League goals against All Blacks, Accra Great Olympics and Heart of Lions and a continental goal against Wikki Tourists of Nigeria told Kotoko fans that he was more determined than ever to make a mark in the team, adding that with God on his side, he was hopeful of achieving his objective.
He pointed out that winning the league trophy and other important local trophies with Kotoko as well as making an impact with the club in their continental outing was something he cherished very much.
Nii Adjei is the son of Mr Samuel Adjei Annan, a former soccer star of Kumasi Cornerstone fame. He is waiting patiently to develop his talents with Kumasi Asante Kotoko to enable him become a fully blossom star before venturing outside to ply his trade.
He is of the view that by developing his potentials with Kotoko, his market value will rise to enable him attract offers abroad.
Story by George Ernest Asare