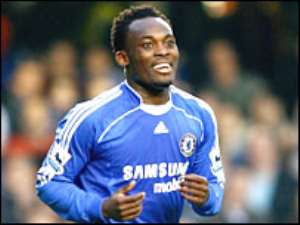 Essien is taking his time Chelsea star Michael Essien is not perturbed by when he will return to action following a serious knee injury.
Reports have linked the Ghanaian with a January return but the player himself has not set a date, rather letting natural recovery dictate terms.
"I think with these injuries you can't really give it a time, it can be shorter or longer, the time is not that important," Essien told Chelsea TV.
"The most important is for me to get back stronger. If I come back early fine, but if it takes a bit of time, fine.
"At the moment everything is going well. I am recovering very well and it won't be long before I can go outside and start running a bit.
"I am in good hands with Thierry [Laurents] and the other physios. They have been great and are doing a really good job."
For more Ghana football news visit www.ghanasoccernet.com