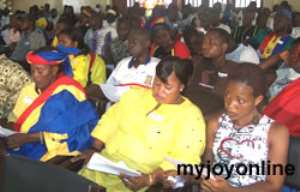 Alhaji Amadu Braimah, Chairman of the National Chapters Committee of Accra Hearts of Oak football club, has called on the supporters to unite and work hard to enable the club to regain its glory as one of the best in Africa.
He said unity and hard work plays a very important role in all aspects of life and that without it, no club or society could achieve progress.
Alhaji Braimah made the call at the end of a Health Walk held in Accra on Saturday, as part of activities marking the 97th anniversary celebrations of the football club.
The walk, which started from the Club's Secretariat at Adabraka went through some principal streets of Accra and ended at the Secretariat.
Alhaji Braimah said the dismal performance put up by the club this season could only be reversed through "unity and hard work".
"You should come together and champion the cause of unity," he said, adding that, "you should also contribute your quota in whatever way for the club to chalk victories".
The NCC Chairman asked the Ghana Football Association to provide video coverage of all premier league matches, to track hooligans, whose aim, he said, was to bring the game into disrepute.
He also appealed to match officials to be fair, in order to avoid the agitation of supporters and mistrust between them and the clubs.
Alhaji Braimah expressed the hope that with hard work the club would win the 2008/2009 Premier League.