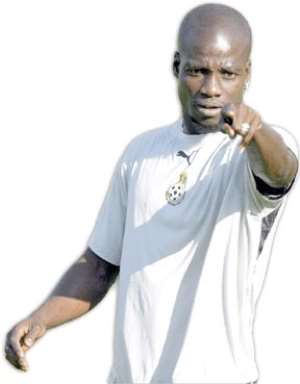 Black Stars' skipper, Stephen Appiah, says he is exercising extreme caution in judgment as clubs pursue him for his signature.
Without mentioning specific clubs, he said clubs from England, Italy, Spain and Germany were in the reckoning for his signature.
"It can be anywhere, we have not finished with discussions," he said.
Appiah is clubless at the moment after terminating his contract with Turkish side Fenerbahce this year. But he told the media in Accra that he was being guided by the past in choosing his next club.
"In the past I thought about too many people other than myself and in the end it affected me. I need to be cautious so that I don't make mistakes," the 27-year-old said.
"l listened to Fenerbahce too much when they decided to inject me for our matches. I allowed it because we wanted to win the league and when we finished with the campaign, they turned their back on me.
"It was a bit disheartening when they said they would freeze my licence. "I have sued them and they are trying to arrange for an out of court settlement. We will see how it will go," he said.
The injury that sidelined the former Juventus and Parma midfielder for 10 months forced him out of the Nations Cup in Ghana in January and February this year.
His career appears to have hit the path to recovery again with impressive games for the Black Stars against Libya and Lesotho in the 2010 Nations Cup/World Cup qualifiers.
Story by Michael Quaye