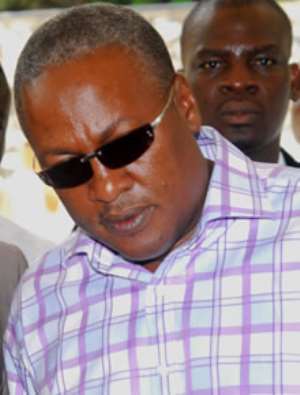 Mr. John Dramani Mahama, running mate of Professor John Atta Mills of the National Democratic Congress on Tuesday said there was no way NDC would lose the December general election.
Kick-starting his 10-day tour of the Brong-Ahafo Region at Bechem, capital of Tano South District, Mr. Mahama said "it is the weak and losing team that complains to the referee for the slightest infringement".
The NDC running mate was speaking during a courtesy call on Nana Fosu Gyeabour Akoto II, Chief of Bechem and President of Bechem Traditional Council.
He said the NDC was going into the election with a message of peace, and what "all Ghanaians want is peace, which promotes development. Once we are committed to the development of the nation we will not ruin its peace".
Mr. Mahama emphasized that it was those parties that were losing that were panicking and therefore shouting the loudest. Nana Akoto asked the running mate to allow the humility that made him shine out of the lot to guide him through his political career.
Addressing a teeming crowd at a rally at the Bechem lorry station later, Mr. Mahama promised that an NDC government "will check armed robbery".
"It is sad that we have doubled the police (strength) yet crime is on the ascendancy. We will shake the service and bring reforms by equipping it with logistics. We don't want any armed robber to vote for us. We don't want them in NDC", he said.
Mr. Mahama said as a result of misplaced priorities by the NPP government many communities in the country, especially those in the rural areas, were facing water problems and lack education.
"A government under the leadership of Professor Evans Atta-Mills will establish farmer service companies that will ensure that farmers were registered and supplied with agricultural inputs, such as fertilizer and seeds and would be made to repay these inputs after the sale of their produce in order to create more employment for the youth."
Mr. Mahama further said an NDC government would not scrap the Health Insurance Scheme, National Youth Employment Programme, Capitation Grant and the Metro Mass Transit Service and other social interventions as being speculated but would rather review some of them.
"The transport sector would be reviewed to enable taxi drivers to earn substantial money to enable them to fend for their families, by checking the high cost of their operations and eliminating the payment of examination fees and printing fees as pertained in the capitation grant. This will make education really free", he said.
He also promised better working conditions and remuneration for teachers, saying "their reward is right here on earth and not in heaven".
Mr. Mahama addressed similar rallies in Derma and Techimantia in the district and Duayaw-Nkwanta and Bomaa in Tano North District.
Source: GNA