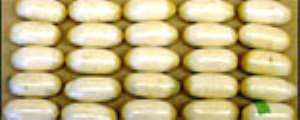 AN ACCOUNTANT of Dashment Company, owners of MV Benjamin, the vessel used to convey the 77 parcels of cocaine, on Monday told an Accra Fast Track High Court that the vessel once broke down at sea leaving crew members and workers stranded.
According to Prince Otchere, the company had to use canoes to rescue the 36 workers on board the vessel, after which it paid them off.
This came to light at the trial of Joseph Kojo Dawson, owner of the boat, and four crew members for their alleged roles in the importation of the narcotic drug.
The witness, who had worked with Dashment for three years, was led in his evidence-in–chief by Mr. D.K. Amarley in the court presided over by Justice Anin Yeboah.
He tendered in documents to show the list of workers who were paid off with two months' salary advance after Mr. Bae, the actual boat owner's representative, had given them their four months' salary arrears.
Under cross examination by Mr. William Kpobi, a Chief State Attorney, Mr. Otchere mentioned the names of their external auditors as E.O. Mensah and Associates, saying their company lawyer was Emmanuel Francis Owuo.
When asked why he did not number the pages on the book-keeping record to show the date and time the workers were laid off, the accountant stated that he could explain to the court whatever issue it did not understand.
Mr. Kpobi suggested to the witness that it did not make sense to include the name of Mr. Kingsley Asante, a witness in the case, to the list of those who were laid off, but Mr. Ochere insisted that Kingsley was among those laid off.
Mr. Joseph Kwabena Dawson, father of the boat owner, who was earlier cross-examined by Mr. Kpobi, stated that apart from being a director to the company, he also acted as an adviser whenever the company was confronted with any problem.
He disclosed that the company's general manager was one Mr. Sung while his son was the Managing Director (MD).
He maintained that an agreement was signed at the chambers of lawyer Owuo between Dashment and Sheriff, the charterer, stating that he signed that document on behalf of the MD because he (Dawson) was the one who signed the initial agreement for the vessel to be bought.
Sheriff is an escapee wanted in connection with the alleged importation of the 77 parcels of cocaine.
Other accused persons on trial include Isaac Arhin, Philip Bruce Arhin, and two Chinese nationals, Cui Xian Li and Liu Yin Xing.
They are facing charges of conspiracy to commit crime, use of property for narcotic related offence and doing prohibited business relating to narcotic drugs.
The case has been adjourned to December 6, 2007.
By Fidelia Achama