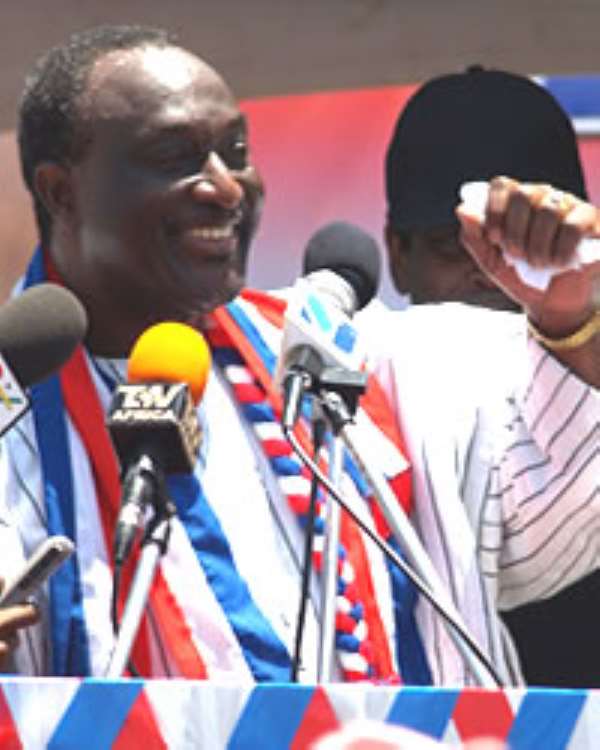 A contender in the New Patriotic Party flag bearership race, Mr. Alan Kyerematen has stated that the NPP flag bearership is not an end of service benefit for those who think they are the long serving servants within the NPP.
The flag bearership is not a retirement benefit for anybody, he said at a meeting of constituency executives and polling station chairmen at Saboba in the Northern Region. Mr Kyerematen said, 2008 general elections will be a difficult one for the NPP since the leading opposition party, National Democratic Congress (NDC), is going to put in everything it has to prevent it from winning the presidency for the third time.
"The only way we can make the score line 3-2 is to make the right choice" he noted.
Mr Kyerematen named what he calls the "ten commandments" in the selection of the right candidate which include, a marketable candidate who would attract votes from other opposition parties, not someone who thinks that the position is a retirement benefit rather than being a servant, someone can add to what the incumbent President has done, create more jobs and cash for the people, someone who can unify the party after congress, that is a unifier, someone with international recognition and exposure.
He mentioned the others as, someone with local experience from different sectors, a visionary leader, God fearing and humble candidate, good moral standing without stains and someone who has the interest of the foot soldiers at heart.
"If these qualities are what you are looking for, then your national candidate is Alan Kyerematen," he added.
Mr Kyerematen further noted that, "the election is about two things, more jobs and more cash, and I am the only candidate who has the ability to provide more jobs as well as putting cash in your pockets".
He said he has become the subject of negative attacks in the media because most of the aspirants see him as the one to beat, adding that, "it is the ripe mango on the tree that people throw stones at".
He debunked the notion that President Kufuor has thrown his weight behind him while admitting that the President as human being may have a preference.
He said, beyond the numerous speculations, the President himself has come out to say that he will not use his office to support any candidate to have an advantage over the others.
"It is God who enthrones Kings. It is God who will make me President of Ghana. Any other support is bonus", Alan 'K', as he is affectionately called said amid cheers from the crowd, and added that he is not bothered by the negative propaganda against him because they are all lies and do not deserve any attention.