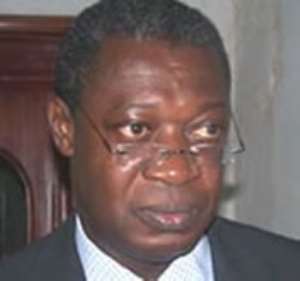 Professor Agyeman Badu Akosa, a flag bearer aspirant of the Convention People's Party (CPP) has stressed the need to boost agriculture to produce enough food for consumption and export in the country.
"Importation of foodstuffs, vegetables and livestock from neighbouring countries would cease when I am elected as the flag bearer of CPP and President," he added.
Addressing newsmen at Tarkwa as part of his three-day tour of the Western Region, Prof. Akosa said a CPP government would guard against post harvest loses by applying science and technology in food preservation.
He pointed out that although rice importation would not stop, the Aveyime Rice Project would be revamped to produce more rice for local consumption.
Prof. Akosa explained that CPP was not a party for the aged but the youth as well and attempts to relegate it to the background in Ghanaian politics it had stood the test of time.
He pledged to rekindle the spirit of CPP and called on delegates to the party's congress to vote for him.
Mr Iddi Egala, contesting for the National Chairmanship of the party pledged to make the party strong by building integrity among members, ensure discipline and dedication to the party's constitution to move it forward.
Mr K. Bomfeh, contesting for the Youth Organiser said the party was built and run by the youth because relevance of the party to contemporary Ghanaian politics, Africa and the world depended on party's ability to take on the youth.