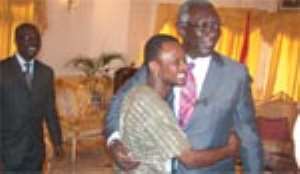 PRESIDENT J.A. Kufuor yesterday congratulated the new International Boxing Federation (IBF) Bantamweight champion, Joseph "King Kong" Agbeko for the sterling performance which earned him the title recently.
He said Agbeko typically personified Ghana in his performance, emphasizing the statement once made by a diplomat that "Ghana is a small nation that is always punching above its weight".
The President made these comments when the new world champion called on him at the castle to show the belt he acquired on September 29, 2007 in Sacramento, United States.
According to the President, though Agbeko's Nicaraguan opponent, Louis Alberta Perez looked physically stronger and bigger, he was "tortured by the Ghanaian".
He was extremely happy that Ghanaian boxers had over the years proved their mettle in the game by always bringing glory to the nation.
"It is a great honour that you are joining the tradition. You have done us a great honour.
"Your name is now added to the list of great people in terms of achievements of distinction and the Hall of Fame will forever remember you.
"I believe Ghana should honour you with a grand medal. We will expect you to continue and hope you will annex other belts in addition," said the obviously elated President.
Mr Kufuor asked the deputy Minister of Sports, Mr Osei Bonsu Amoah, who led the delegation to the castle, to ensure that Agbeko had any remuneration that was due him.
He thanked the boxer for donating his belt to the nation as his present on Ghana's 50th Independence anniversary celebration.
"Keep the belt in your custody and as and when the nation needs it, we will call on you to bring it," President Kufuor told Agbeko as he handed over the belt to him.
Agbeko, who had earlier embraced the President, could not hide his emotion as he declared:
"I feel very honoured to hug the President. I will work harder to bring more belts here and hug him more".
The President of the Ghana Boxing Authority, Mr Moses Foh-Amoaning described Agbeko's performance as tremendous and assured the nation that the young boxer was likely to bring more glorious titles such as the WBA, WBC and WBO home.
He said boxers like Raymond Narh and Joseph Clottey were among those tipped to bring home world titles soon, and commended the Kufuor administration for the interest shown in and support given to sports.
By Sylvanus Nana Kumi