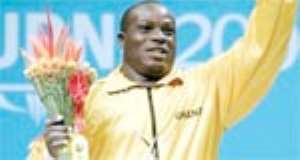 Ghana has once again been robbed of world fame following its failure to make an appearance at the World Weightlifting Champion (WWC) currently going on in Thailand.
This is due to the drug scandal involving leading weightlifter, Majetie Fetrie and divisions at the front of the local federation.
Information gathered by the Sports Desk of DAILY GUIDE reveals that the Ghana Weightlifting Association (GWA) could not secure funding and endorsement from the Ministry of Education, Science and Sports due to the two issues which have been hanging around the neck of the association in the last few months.
According to the source, the ministry intends conducting further investigations into the circumstances that led to the two-year ban imposed on Fetrie by the International Weightlifting Federation (IWF) for taking banned substances during the Africa Championship held in Morocco, in 2006.
Fetrie, it would be recalled was disqualified from participating in the recent All-Africa Games held in Algiers, Algeria, thus denying Ghana a medal in the sport.
Advertisement
Significantly, there seems to be division at the front of the association following the presentation of two sets of names to the IWF for participation in the on-going championship.
Mr Clifford Johnson Aboagye, Chairman of the GWA lamented that the modest gains made over the years by the association might be eroded by such unfortunate events.
Members of the association recorded Ghana's maiden medals in the sport at the All-Africa Games in Nigeria and continued with similar feats at the African Championship, and crowned it with a gold medal at the last Commonwealth Games in Australia.