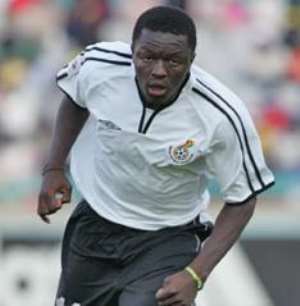 Udinese's Ghana midfielder Sulley Muntari is desperate to see his move to Portsmouth sealed.
Muntari played at Fratton Park in Kanu's charity match on Sunday night and revealed he is desperate to play under Harry Redknapp - a year after he first tried to sign him.
He said: "I'm just waiting for the day to join Portsmouth. I want to play here.
"To step on this ground, it's like I've started in the Premiership already.
"It's a fantastic club with class players like Pedro Mendes, Sol Campbell, David James and Kanu and a great manager in Harry Redknapp, who has been following me since last year.
"I've been supporting Portsmouth for a year, ever since they said they first wanted me, watching the games. It's been a fantastic season.
"I spoke to Harry Redknapp before the game. We shook hands and he told me to enjoy it.
"Harry Redknapp's not just a good manager, he's a good man.
"I could see that in the changing rooms from the way that he was talking to the players. It was fantastic.
"I know that as a player if I've got a problem I'll be able to go to him."
4,600 fans turned up to Fratton Park to see Muntari in action and the World Cup star admits he was impressed by the turn-out.
"I like the fans. I think they love football.
"To see them turn up to cheer us on for Kanu's game in the way they did was fantastic."