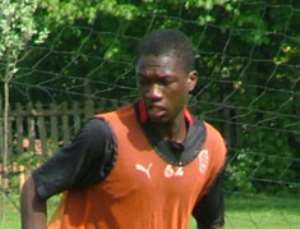 King Osei Gyan, an 18 year old Ghanaian who signed for English Premiership side Fulham FC in January of this year and who is now on loan to Germinal Beerschott Antwerp (GBA) in Belgium, has stated this week of his eagerness to play for his nation.
King has been playing in Belgium since January, and as a regular part of the GBA first team, he is becoming a dominant player in the midfield.
King is now desperate for a chance to play for his country, although he accepts he must gain experience at youth level first before earning that much sought after Black Stars opportunity 'I want to play for the Black Stars right now, but I know that I have to play for the youth team first.
I want to be invited to play in the youth team first so that I can prove to Claud Le Roy that I am good enough to play for the Black Stars'.
In the immediate future, King is focused on earning a place in the U20 Ghana team to who will play at the Tulon tournament later this year.
As part of this team, King would gain valuable experience of international level football which would form an essential part of his development, preparing him for the Black Stars Cap he is so keen to earn.
King is a graduate of the Right to Dream Academy based in Dawu, in the Eastern Region of Ghana. King attended the Academy on a full scholarship for three years before going to the US on an academic scholarship for two years before signing professional.
As a charitable project, the Right to Dream Academy is underpinned by the vision 'to offer underprivileged children the opportunity to achieve their true potential in life through sport and education'.
As one of only a few Academies in Ghana King recognises the role the Academy played in his life 'without the academy, I wouldn't be where I am right now. The Academy gave me the opportunity to not only play sport at a high level, but gave me an education and taught me all about life'.