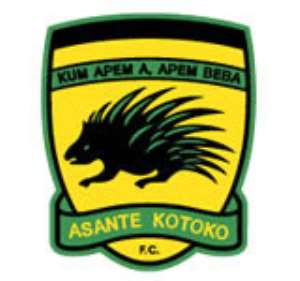 The technical team of Kumasi Asante Kotoko Football Club which has come under intense pressure from the club's supporters in recent times suffered another casualty on Wednesday following the resignation of the goalkeeper's trainer, Joseph Carr.
Carr, a former player of the Club, cited unpaid salaries and poor working conditions as the main reasons for his resignation.
Giving reasons for his resignation in an interview with the GNA Sports in Kumasi on Thursday, the keeper's trainer accused the Club's management of deliberately refusing to give him salaries due him for the past seven months.
He said it was regrettable that on the many occasions that he had prompted management to give him what was due him, he has been always given a cold reception.
Carr, an employee of the Ghana National Fire Service (GNFS) said in view of this development he had no other choice than to lay down his tools until all differences were settled between him and the management.
He was, however, quick to add that he would rescind his decision and come back to the Club if he was given what was due him.
Mr Sylvester Asare-Owusu, Chairman of the Management Team of Kotoko when contacted by the GNA Sports, admitted that even though management had had some differences with Carr lately, the issues were being addressed and therefore expressed shock at his resignation.
He said the differences also bothered on the trainer's divided attention which was affecting the team's overall performance.
The Chairman explained that management in a bid to ensure the team's total development met Carr some months ago and impressed upon him to resign from the GNFS so that he could have enough time for the Club as he was being considered for full time employment with Kotoko.
Mr Asare-Owusu said since the trainer had refused to adhere to the directive, "We consider him as a part-time worker and would therefore pay him as such".
He said management would have no other choice than to go in for a substantive goalkeeper's trainer if negotiations with Carr failed. The Chairman said, however, that there were plans to get the trainer rescind his decision in the interest of the Club.