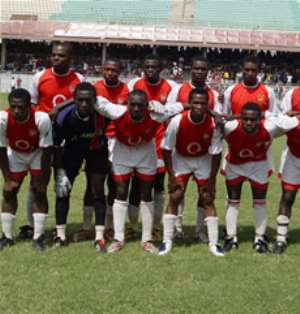 Berekum Arsenals keep their hopes of a top four finish alive with a 1-0 win over Gamba All Blacks at the Golden City Park.
The win lifts the Gunners to fourth on the table while the Black Magicians slip to 13th place on the standings.
Arsenals had to wait until the second half to find the match winner after a goalless first half where the home side suffered near misses.
Ten minutes into the start of the second half, Osei Boateng put the Gunners in the lead after beating All Black goalkeeper, Isaac Akrong from close range.
The hopes of the Black Magicians finding the equaliser proved difficult as the minutes ticked on till the end of the game.