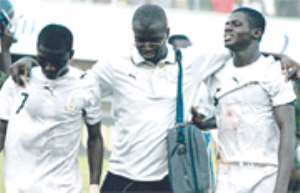 Ghana failed to win the Africa Under-17 football championship for the third time when Togo's Young Hawks beat the Black Starlets by 2-1 in Lome yesterday in the first semi-final at the seventh edition.
It was a sad end for a highly regarded Ghanaian side, and their remonstrations with Camrounian referee, Omgba Zing, gave expression to Coach Fred Osam Duodu's belief that the Starlets' efforts were undone by officiating.
On the blind side of the Ghanaian players and officials, a picnic had begun in earnest for the host nation, and the party had received endorsement from local football hero and Arsenal star, Sheyi Adebayor, who joined the celebrations on the field after watching the Togolese come from behind to beat Ghana.
Ghana snatched the lead in the 13th minute of the drub tie, but the advantage vanished after 29 minutes. The winner fetched on the stroke of full time.
The upset victory drove Togo's Coach, Samer Abraw, quick to the post-match press conference where he maintained that "we are ready for any team in the final."
His counterpart, Fred Osam-Duodu, refused to answer questions and only remarked that "I did not like the way the referee handled the match."
Indeed, the Starlets' remonstrations with the referee forced an intervention from a strong military force, some members of which used virtual brute force on the youngsters.
Referee Omgba ignored a 54th-minute challenge on Sadick Adams in the penalty area, and awarded a foul against the Ghanaian when he went down again in the Togolese penalty area on the 60th minute under a violent challenge.
The Togolese, on the other hand, capitalised on everything in their favour, and despite remaining cautiously nervous for the entire match, never gave up the fight.
Ransford Osei opened the score for Ghana with a left-footed strike from within the penalty area after the Togolese struggled in vain to clear a floated ball into the area.
Against the run of play, Korodowou put the host nation on level terms when he converted a free kick from the edge of the penalty area.
The Togolese then began to grow in confidence and dominated the second half with a tight game.
During the period, goalkeeper Tidjani Sodeke rescued the host nation just once when he pushed Nathaniel Osei's ball to corner on the 68th minute.
A win then appeared in sight for the Young Hawks after 87 minutes only for playmaker Kuessi Segbefia to miskick the ball six metres away from goal.
The threat had hardly been dealt with when Tidjani Biliaminou finished a series of headers with a delicate header for the winner that sent Sheyi Adebayor onto the field to celebrate with the Young Hawks.
Story by Michael Quaye