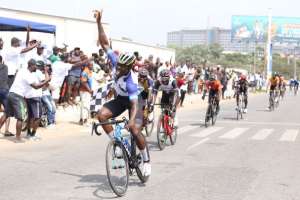 Ojatson Sports Foundation on Sunday organised a successful cycling race at Accra Sports Stadium, Osu.
The very competitive event which covered a distance of 66 kilometres was saw Lawrence Adjei of the Gladiators club winning the men's elite division, while Abraham Boakye, the 2022 SWAG Cyclist of the year took the second position and Frank Akuffo, another classic and fearless rider placed third.
In the exciting female race, Paulina Yaa Mensah was third, Abigail Tetteh placed second and the first position went to Erica Sedro. She used her international experience to win the race. The footballer, hairdresser and cyclist said she wants to do well at the upcoming African Cycling Championship in Accra and qualify to represent Ghana at the 2023 African Games and 2024 Olympic Games.
She said the exposure at the 2022 Commonwealth Games in Birmingham has helped her a lot.
Mr Joseph Ojatson, the organiser and sponsor of the event said he was impressed with the standard of the race at it was fast and attached 98 cyclists including females and the youth.
Mr Shaaban Mohammed, General Secretary of the Ghana Cycling Federation also hailed the organisers and participants.
He was happy that more females and young people are taking to cycling which is a very good sport.
He thanked the Sports Writers Association of Ghana SWAG for recognizing their efforts and nominating them among the best five sports disciplines.
He said Ghana will present a formidable team for the 2023 African Championship.
The Ojatson Sports Foundation is a non-profit organization founded by Joseph Konney Ojatson in the year 2022.
The Foundation is a free Program that provides varieties of sports to all children and adults in the community.
Joseph Ojatson began this foundation In Ghana West Africa, to give an opportunity to all children to be able to participate in any athletic sports they love with absolutely no cost.
Ojastsonfoundation strongly believes and are committed to its goal by providing financial assistance to children. The utmost goal is to be able to provide costs for equipment, uniforms, and other relevant expenses for kids involved in sports.