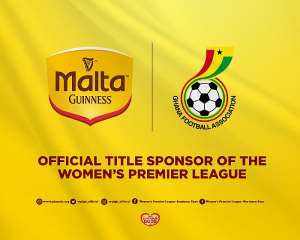 The Ghana Women's Premier League has received a major boost following an agreement between the Ghana Football Association (GFA) and Guinness Ghana Breweries.
From the deal signed for a period of three years, Malta Guinness has become the official sponsor of the Women's Premier League and will pump in a whopping GHS10 million into the women's game.
"Ghana's biggest non-alcoholic brewed malt beverage, Malta Guinness has been unveiled as the official Sponsor of the Women's Premier League.
"The sponsorship, worth GHS10 million, spans a period of three years, starting from the 2022/2023 season," an official announcement by the Ghana FA has said.
Speaking at an event to make the deal official, Marketing Director of Guinness Ghana, Estella Muzito explained that "Malta Guinness' decision to sponsor the Women's Premier League in Ghana is in line with our mission to fuel a world of good."
She added, "The incredibly talented women who play the game, the officials, the Football Association and the fans will be energized in their support of their favourite teams and Malta Guinness will be there to refresh them all the way."
Speaking at the event, Ghana FA President Kurt Okraku said he is delighted the sponsorship deal has been reached with Malta Guinness Ghana.
He assured that his administration is committed to growing the women's game in the country.
"The leadership of the Ghana Football Association has shown commitment to the growth of the Women's Football for which reason we increased the number of participating teams from 16 to 20. Another timely intervention from the GFA was to supply free footballs and other valuable equipment to these clubs. We enrolled players on the YEA for monthly allowances and also made the matches in the Women's Premier League available on Max TV.
"I am filled with joy announcing this landmark agreement with Malta Guinness. I would like to thank the management of Guiness Ghana for believing in my leadership and choosing to work with us. The Ghana Football Association will continue to project our brands to make it attractive to corporate Ghana and the world at large. In passing, I want to call on other companies to emulate this example and come on board to help develop and grow the sport," Kurt Okraku shared.