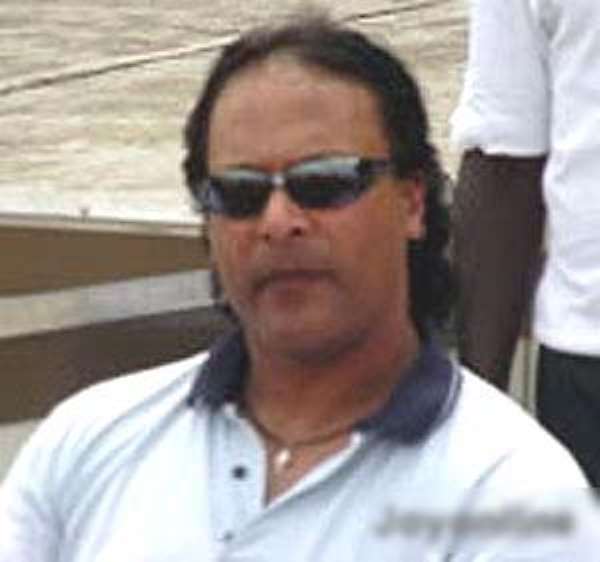 Mariano Barreto must be the happiest man in Ghana today. After all the questions that were justifiably raised about his credentials and the manner he rose from nowhere to become Ghana's coach, the Portuguese is winning hearts and gradually proving himself worthy of the challenge he has been handed by the Ghana Football Association.
Two wins out of two on a platform as important as the Olympic games qualifiers, represent a dream start for Barreto. But of those two wins against Algeria and South Africa, the ones over the lads from Mandela's homeland in their own backyard must have been the most thrilling.
As he himself pointed out after the 2-1 win over the South Africans last Saturday, "the win allows us now to dream the Olympic dream."
The Olympic dream for Ghana is vital, but as he seeks to realise that dream, Barreto is beginning to realise that making Ghana a football force again would be an enormous responsibility.
He has in the weeks since he lifted his self-imposed silence, been waxing a lot about how much talent is available in Ghana, the passion for football and his own desire to do great things with Ghana, on the international football scene.
"I wake up at 6:00 am to go to training and everywhere I see people playing football. It is magic, I can't believe it," he says about the passion.
Another reason why he finds Ghana a bit too football crazy is the Ghana-Nigeria Olympics women's football qualifier in Accra. "It was the first time in my life that I saw 50,000 people watch a women's game."
In the last twelve years however, Ghanaians have learnt that while there might be a great pool of talent here, this is not particularly a country of winners.
No African title for over two decades. No longer does the Black Stars, as we'd so often heard, inspire fear in opponents.
Barreto is keen to change that. But even with all the plentiful talent, he finds that there are too many things he has no control over but which could ultimately undo his work in Ghana.
As Barreto prepared the national Olympic side for the crucial qualifier against South Africa last Saturday, the stark truth about not only Ghana football, but also the Ghanaian society in general, hit him in the face.
One of his key players, the man considered the most exciting young talent on the local scene, Kwadwo Poku, preferred to have trials in Germany rather than prepare for a game of huge significance to the nation.
Around the same time, Bernard Don Bortey, exciting and very effective, also headed for the same destination moments after touching down with Hearts of Oak from Mali where they had battled Stade Malien to a goalless draw.
The result was that, Ghana travelled to Pretoria without two players who had become so significant for the Olympic side. Kwadwo Poku had scored the second goal in the match against Algeria that had taken Ghana to the top of Africa's qualifying group D.
His decision to swap the Accra Stadium training grounds for Hamburg's fine training facilities and AOL Arena has infuriated Barreto and left him seething when he granted Joy FM his first live radio interview two Saturdays ago.
"I don't understand this, I don't understand that Kwadwo Poku can leave camp and go for trials without telling us anything. "
With time, Barreto would. Kwadwo Poku, like most Ghanaian footballers, want desperately to play in the relatively more glamourous environments of Europe. They find in a contract there, several riches, which could only be assessed by attending trial after trial before one manager is impressed.
And it is not only them. The queues at the American embassy, the British High Commission and the embassies of all those major foreign lands where Ghanaians love to visit and view as paradise, might well explain the seemingly irrational behaviour of Poku and his Hearts of Oak mate: leave this country, go to Europe and inevitably, you would make as much cash as possible.
Don Bortey for instance has travelled so many times since he was hailed as a future star, after putting in an excellent display for the national U-17 side at the African championships and then the world cup.
Each trial has come with reports of how Don impressed but he remains in Ghana, enjoying hero status among the Hearts fans while earning considerable much more money than many Ghanaians would in a month.
Yet you measure yourself against your peers. You want to know how they are doing in relation to how you are doing. And if you were considered more talented than them, it becomes embarrassing if they progress at a rate faster than you.
The football society in Ghana is closely knit. Many players grew up together; they'd vied for hero status in their prime yet a few times, Bortey discovers that many of his peers are racing ahead in the fortune-gathering stakes at an incredible rate.
So while Hearts of Oak prepared for the champions league tie in Bamako, he tried all he could to leave.
Eventually, he did after the goalless draw, and was on the next plane to Hamburg for trials instead of pitching camp with the national U-23 side.
It seems the decision by Bortey and Poku might cost them a place in the national side for sometime to come.
Barreto insists he understands why the players are in such a hurry but is at loss as to why, especially when football's transfer window wouldn't open until this summer.
Now, it looks like they have, in pursuit of fortune, given up on the opportunity to represent their nation.
"Playing for your country is a huge thing but I sense Poku didn't understand," Barreto said. "The team would go on without him because there are several players eager for a chance to play. Sometimes, one mistake with the national team could be costly."
Costly it might be, but the truth is that for most Ghanaians and indeed most humans, self-interest comes first, even at the risk of patriotism.