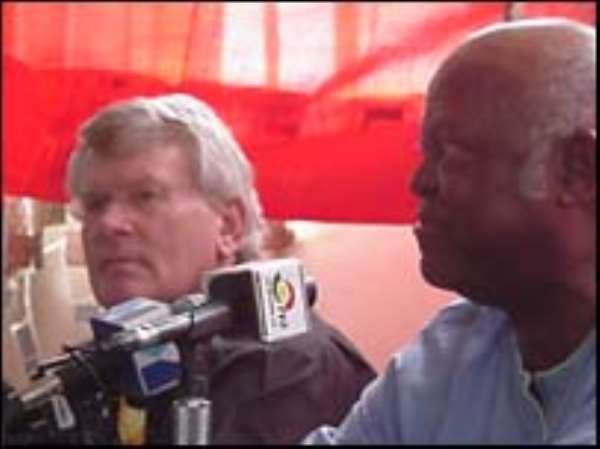 "I know how to print what is true and I know how not to hurt people. I do not know how to do both at the same time." – City Editor in "Absence of Malice."
Ghana Football Association Chairman, Uncle Ben Koufie has in the aftermath of the dismissal of German coach Burkhard Ziese reiterated that the GFA has not shifted posts on its preference for a foreign coach to replace the German.
He is also reported to have attributed the current dearth in the progress and standard of our soccer to lack of financial support. Ben Koufie maintains that the nation will continue to produce heart-breaking results if the lack of financial support for programmes of the GFA continues.
It is tragic that history has not made us any wiser. For the past five or so years we have been having romance with foreign coaches without producing any results and yet we seem not to be in any position to try other options.
It is a matter of common knowledge in the field of medicine but also as a fact of life that when one adopts a certain strategy and it does not work an alternative should be sought.
In the field of medicine if one prescription produces negative results after diagnosis you do not continue to administer that particular prescription. You may end up killing the patient that you want to cure.
Milan Zivadinovic, the ran away Yugoslav coach of the Black Stars and lately Burkhard Ziese, should offer us useful lessons and make us circumspect in the manner that we hire our coaches.
Today, Burkhard Ziese is contemplating dragging the nation to world soccer governing body, FIFA for the payment of $72,000 he claims Ghana owes him in outstanding salaries.
The GFA is reportedly prepared to pay only two months salary out of the seven months salary the coach is demanding. I hear the Ministry of Youth, Education and Sports, the GFA and the Black Stars management committee are currently holding talks with Burkhard Ziese so that a compromise can be reached and the ensuing litigation averted.
Nowadays everybody seems to be taking the nation for a ride. After his disastrous stint with the Black Stars, which saw the nation missing out on Tunisia 2004, Burkhard has the effrontery of dragging us to FIFA for payment for a job he abysmally executed.
I am of the opinion that we need to review the way and manner we contract coaches. Every contract should be tied to performance. From the look of things, Burkhard is exploiting loopholes in the contract he signed with the GFA to his advantage.
Burkhard Ziese claims that his contract permits him and the GFA to discuss and thrash out all differences in the event of intent to part ways, with an option to refer the matter to FIFA in the event of misunderstanding between the two parties.
I am not a lawyer but I think this clause in the contract sounds ridiculous. GFA is the appointing authority. It did the appointment without any consultations with the world football controlling body so why on earth should FIFA play a role in the event of the GFA deciding to terminate the contract.
By the way what does it mean when the contract provides for a meeting to discuss and thrash out all differences in the event of the parting of ways between employer and employee?
Today, Burkhard Ziese instead of leaving in shame for non-performance has rather taken the fight to us demanding his pound of flesh and we seem to be on the defensive frantically trying to seek an amicable settlement.
At the same time we are in talks with Michel Platini and others for employment of another foreign coach. The adage "once bitten twice shy" has lost meaning to us.
What really baffles me is that in our desperation to hire a foreign coach we rather go in for either those who have been out of job for only God knows how many years or those who do not have any pedigree at all.
We have forgotten that cheap things always cost us. Whilst others are paying $30,000 we go out there to hire coaches who are ready to take less than $10,000 just because they are in dire need of a job.
The end results have been the mediocrity and failures we are reaping now. Isaac Paha, Burkhard Ziese's assistant has been made the stop gap coach and he will be thrown out immediately we set eyes on any second rate coach who is white.
For over 46 years we have not been able to wean ourselves off anything foreign. Ben Koufie says we should not blame the GFA for the poor state of our football. If I may ask who are we to blame? Dear Uncle Ben, if you can't stand the heat in the kitchen, get out!
I for one am fed up with your cacophony of "no money, no money." As the capo you need financial support to be able to carry out your programmes. If you know that without money you cannot perform you do not have any business being at post.
Prove that you are a man and dump the job on the laps of those who appointed you. Prove that you have balls and stop whining like a spoilt child. Show that your baldhead and grey hair are not meant for fashion.
Time is running out for you. I was beside myself with laughter the other day when you were reported as saying that you will only seek re-election with the consent of your family.
I had rather wished that any decision on your part to seek re-election would be informed by your achievements. Your good works, if any should occasion any decision to seek re-election.
I would advise you to take a bow when your term ends. In fact you should have gone with Burkhard Ziese but you seem to have a tough skin. That is characteristic of our football administrators and you belong to the same breed.
However you can salvage some honour before you leave the scene. In sobriety admit that you have failed to live up to expectation and stop the endless justification of your useful performance. Think about this.
The pick of the week for Sunday's Premier League matches will be the titanic clash between Accra Hearts of oak and Kumasi Asante Kotoko at the Accra Sports Stadium.
Certain incidents that occurred in the first round match in Kumasi calls for maximum security personnel at the Accra Sports Stadium on Sunday.
The security agencies should not leave anything to chance. Definitely some unruly fans would want to cause commotion and there is the need to stop them in their tracks before they wreak havoc on the nation.
The GFA must ensure that all the two teams abide by the regulations governing the game. The rules are of late broken with impunity and this needs to stop.
To the teams this is not war. This is football. If anybody is interested in war he should look elsewhere and not football.
As I take a bow my condolences got to the family of Edgar Collinwood Williams a. k. a. Heavy Dee, the Kapital Radio presenter who lost his life in far away London early this week. May the Good Lord grant him eternal rest. Adieu.