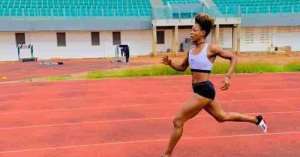 Winner of the female category of the 2021 Ghana Fastest Human Grace Obour says becoming a sports champion is not achieved on a silver platter.
"You need to meander your way to the top and after, maintaining it, is also another journey on its own. Most of the world champions in sports have confirmed it and they also say it takes few people to be able to maintain this spot. You need to be consistent, hardworking, smart working, disciplined, and motivated" she expressed.
Grace Obour is a Ghanaian national track and field athlete. She specialises in sprint events, 100 metres, 200 metres, and 400 metres. She won a bronze medal at the 2019 African Games in 400 metres. She won the fastest female athlete Meet final at the Paa Joe Sports Stadium in Kumasi.
"One thing you need to know is that being a champion is not easy when you start to do the sports as a lady. A lot of people will say all sorts of words about you. As a lady you shouldn't run, if not you will become something else. Sometimes, some of the things that they will say about you if you are strong enough or motivated you will just give up", disclosed Grace Obour.
She has been motivating her fellow female athletes not to give up, no matter what will happen.
She also added that running sometimes can be difficult, because sometimes you can become last during competitions but keep on training. Most of our sportswomen are facing and going through harassment each and every day. Because the society doesn't value the sportswomen and that's also another reason most of our women are afraid to do the sports. The trauma and anxiety the women endure as an athlete is still growing each day.
Grace Obour was selected to bear the Queen's Baton Relay in Ghana. The Queen's Baton Relay was to create awareness of the upcoming Commonwealth Games in 2022. The games will be held in Birmingham, United Kingdom.